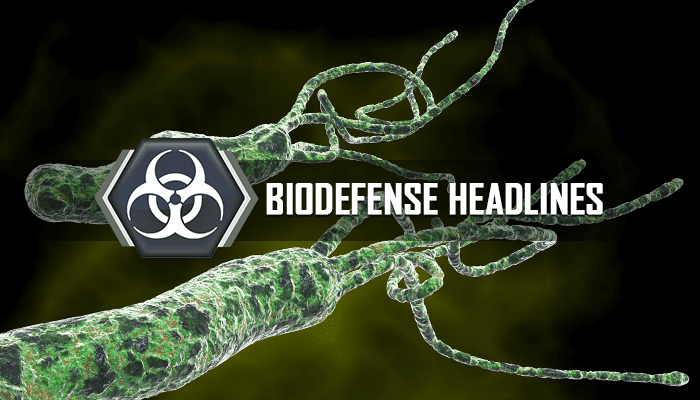 See what we're reading at Global Biodefense on topics including the Gesundheit Machine, Lassa fever in Nigeria, and fractional dosing of countermeasures in short supply.
POLICY + POLITICS
White House Proposes Shifting Kansas Bio-Defense Lab from Homeland Security to USDA
Since its inception over a decade ago, the Department of Homeland Security has had authority over the $1.25 billion National Bio and Agro-defense Facility, or NBAF, under construction on the campus of Kansas State University. The 2019 federal budget released this week proposes transferring authority over the facility to the U.S. Department of Agriculture. KCUR
Budgeting for Medical Countermeasures: An Ongoing Need for Preparedness
The Alliance for Biosecurity, the Blue Ribbon Study Panel on Biodefense, and Trust for America's Health found in a survey that eight out of 10 Americans are concerned that naturally-occurring diseases like Ebola and Zika pose a threat to the U.S., and about nine out of 10 people are concerned that terrorists might use chemical or biological weapons against the U.S. Importantly, the survey found that most Americans support increasing the federal budget for preventive measures for biological threats. Bipartisan Policy Center
Building Capacity for Pandemic Response 2018 Update
This checklist is a tool to help national authorities to develop or update national pandemic influenza preparedness plans for managing the risk and impact of an influenza pandemic under the guiding principles of the 2017 WHO pandemic influenza preparedness framework – "Pandemic Influenza Risk Management". It updates and replaces the 2005 WHO checklist for influenza pandemic preparedness planning. World Health Organization
NIH Stays Flat, Absorbs Three Institutes in President's 2019 Budget Proposal
Funding for the National Institutes of Health (NIH), initially slated to be slashed by 27%, instead would total $34.7 billion, roughly unchanged from 2017. That level could end up being a cut, however, after Congress completes work on a bill to fund federal agencies through 2018. The House of Representatives has proposed a $1.1 billion increase and the Senate $2 billion; a budget agreement approved last week promises at least $2 billion for NIH over the next 2 years, adding support for a substantial increase this year. Science
F.D.A. Chief Goes Against the Administration Stereotype
More than nine months after he was confirmed, Dr. Gottlieb has achieved something unusual among President Trump's appointees: He has quieted some skeptics, while also managing to keep industry supporters content and the president on his side. He has done so by making moves to protect public health while also offering rewards to industry — double plays that have some willing to give him a second look. NY Times
SELECT AGENTS
Did Pox Virus Research Put Potential Profits Ahead of Public Safety?
The scientist who did the work, David Evans of the University of Alberta in Canada, has said his team had to synthesize horsepox because they wanted to study the virus and there was no other way to get it. There was another possibility, NPR has learned. Evans could have done research on a specimen of horsepox collected from the wild, but he didn't pursue that alternative. He says using the natural virus might have prevented the pharmaceutical company he is working with from commercializing horsepox as a new vaccine for smallpox. NPR >>
The Anniversary of Kim Jong Nam's VX Assassination
February 13th marked the one-year anniversary of the assassination of Kim Jong Un's half brother at the Kuala Lumpur airport. Kim Jong Nam was attacked by two women who smeared VX nerve agent on his face. Pandora Report
OUTBREAKS + THREAT SURVEILLANCE
Lassa Fever Erupts in Nigeria
The World Health Organization has sent a six-person team and 40 boxes of personal protective gear to help fight a major outbreak of Lassa fever in Nigeria. About 615 suspected Lassa cases have been reported in the last six weeks. NY Times
More Than 40 Dead in Lassa Fever Outbreak In Nigeria
The WHO says the high number of reported cases in the new outbreak is "concerning," and it is investigating and scaling up responses in southern Nigeria. Officials speculate that infection numbers are under-reported, as Lassa fever symptoms such as headaches and joint pain can mimic malaria, a disease that is also endemic in the country. CNN
This Year's Awful Flu Season May Have Just Hit a Plateau
It has been a severe flu season, and one that started early. At the end of last week, the rate of flu hospitalization was nearly 68 people per 100,000. That tops the rate of 64.2 per 100,000 in the 2014-2015 season, which until now has been the season with the highest rate since the current system of tracking of flu hospitalizations was adopted in 2010. STAT News
Malawi Cholera Cases Pass 500, Eight People Dead
Cholera cases in Malawi have tripled and four more people have died, the Ministry of Health said on Monday, a month after the spread of the disease from Zambia was thought to have been contained. Reuters
Two Swiss Athletes Are First at Olympics Confirmed with Norovirus
Two Swiss athletes are the first at the Winter Olympics confirmed to have contracted norovirus. Nearly 250 people, including security workers and members of the organizing committee, have been affected by norovirus while in Pyeongchang. Its symptoms typically include extreme vomiting and diarrhea., which has affected hundreds of people in Pyeongchang. NY Times
'Seoul Virus' Can Jump from Pet Rats to Owner
People with pet rats should practice safe rodent handling and good hand hygiene to avoid catching a virus that can jump from rats to humans, infectious disease experts warn. Doctors in the U.S. and Canada have seen cases of Seoul virus infection in humans who contracted the virus from their pet rats, according to a report in Morbidity and Mortality Weekly Report. Reuters
RESEARCH + TECH
With New CRISPR Inventions, Its Pioneers Say, You Ain't Seen Nothin' Yet
Some of the world's leading CRISPR labs have, independently, tweaked CRISPR — adding bursts of light here and rings of DNA there — in ways that could make it even more of a research powerhouse and, possibly, a valuable medical sleuth, able to detect Zika, Ebola, and cancer-causing viruses, or a cell's history of, say, exposure to toxins. STAT News
Congenital Zika Syndrome (CZS): Lessons from Twins
The first case of CZS was identified in a pair of dizygotic twins. Surprisingly, only one of them was affected. This information turned on "our light". As geneticists, we know that twins' studies are the best approach to circumvent confounding variables. Considering that CZS would depend solely on the environment we would expect twins to be equally affected. However f a genetic contribution increases susceptibility to develop CZS, we would expect discordant DZ twins (one normal and one affected). Nature Microbiology
Tricked or Trapped—Two Decoy Mechanisms in Host–Pathogen Interactions
Antagonistic interactions between hosts and pathogens frequently result in arms races. The host attempts to recognise the pathogen and inhibit its growth and spread, whereas the pathogen tries to subvert recognition and suppress host responses. These antagonistic interactions drive the evolution of 'decoys' in both hosts and pathogens. PLOS Pathogens
Influenza Interaction with Cocirculating Pathogens
Evidence is mounting that influenza virus interacts with other pathogens colonising or infecting the human respiratory tract. Taking into account interactions with other pathogens may be critical to determining the real influenza burden and the full impact of public health policies targeting influenza. PLOS Pathogens
The Tip of the CRISPR Iceberg
CRISPR, biology's methodological wunderkind, is becoming synonymous with the controversial field of human gene editing. But it's revolutionizing much wider scientific discovery too. By deleting or modifying insecticide-targeted genes in the brains of flies, we are revealing not only how and why certain insecticides work against some insects but not others, but also how these genes help the brain function. University of Melbourne
MEDICAL COUNTERMEASURES
Antimicrobial Resistance: Forging A New Strategy Against an Old Threat
The challenges of drug research and development are startling in light of the predictions for AMR: 10 million deaths worldwide per year by 2050 and $100 trillion lost between now and then in terms of global production.3 Current data indicate that there are approximately 23,000 deaths in the United States already each year, and about $20 billion in excess direct health care costs. Contagion Live
My Toddler Was So Sick with the Flu. Here's Why I Think He Survived.
I asked the ­urgent-care doctor if it could be the flu. "I don't think so," she told me. "He doesn't have a fever." Or a cough or a runny nose — some of the classic signs of flu. A rapid influenza diagnostic test in his pediatrician's office the next morning said otherwise. It came back positive for influenza Type A, and we started him on antiviral medications that afternoon. The next few days, I watched as he struggled to fight off a virus that has already killed at least 84 children this season. Washington Post
The Flu Vaccine Is Working Better Than Expected, C.D.C. Finds
The flu vaccine is more effective than expected, federal health officials said on Thursday at a special news conference held to discuss the dangerous flu season, which is expected to kill more than 50,000 Americans. NY Times
Enlisting Nanoparticles in the Fight Against Superbugs
Researchers have found that selenium – a mineral that humans require in their diets to boost immunity and aid metabolism – in the form of nanoparticles can stop the growth of bacteria such as 'Golden Staph'. They think the nanoparticles do this by disrupting the membrane around the bacteria. Pursuit
Fractional Doses of Yellow Fever Vaccine Provided Protection, Study Finds
People who received a fractional dose — one-fifth the standard size — showed strong immune responses a month after they received the single dose of vaccine, the authors reported in the New England Journal of Medicine. STAT News
Index Adopted to Track NTD Treatment in Africa
African leaders have adopted a new index that helps track progress in mass treatment of neglected tropical diseases (NTDs) in Sub-Saharan Africa. Five NTDs — lymphatic filariasis, onchocerciasis, schistosomiasis, soil-transmitted helminths and trachoma — were added to African heads of states' annual scorecard or index on disease progress last month (28 January), during the 30th African Union summit in Ethiopia. SciDevNet >>
SPECIAL INTEREST
Discussing the 1918 Flu Pandemic at ASM Biothreats
Historians and researchers continue to debate the exact reasons why the 1918 influenza outbreak was so severe. Many argue that the ongoing war contributed to the spread of disease, either directly through the movement of troops transmitting the illness, or indirectly through war-related conditions creating a malnourished and vulnerable population throughout Europe. However, even without a worldwide war, a pandemic influenza or similar infectious disease could create chaos and damage to our societal infrastructure today. American Society for Microbiology
GMU Biodefense Open Houses
The Schar School of Policy and Government will hold sessions on Feb. 21 and Mar. 22 to provide an overview of their master's degree programs, faculty and research. A PhD information session will be held on Apr. 18. George Mason University
Minority Undergraduate Student Internship Program (MUSIP)
MUSIP is a 10-week summer internship program for undergraduate students and is designed to foster research, development, testing, and application of technologies at one of the nation's premier chemical and biological defense laboratories. Application deadline 23 Feb. Edgewood Chemical Biological Center
The "Gesundheit Machine" Collects Campus Cooties in Race against a Fierce Flu
If a student is sick enough, they get sent around the corner, to a room with a crazy-looking, Rube-Goldberg-like contraption known as the "Gesundheit Machine." For half an hour, the student sits in the machine. As they breathe, the machine collects whatever virus they've got from the droplets in the breath they exhale. Scientific American