ECCMID Infectious Diseases Conference 2019
April 13, 2019

-

April 16, 2019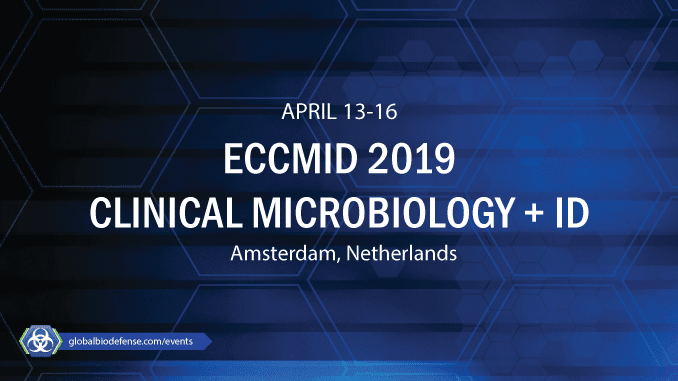 The European Society of Clinical Microbiology and Infectious Diseases ECCMID Infectious Diseases Conference 2019 will be held April 13-16, 2019 in Amsterdam.
With almost 12,000 attendees, the scientific program includes symposia, keynote lectures, meet-the-expert sessions and workshops.
Sessions of interest highlighted by the Global Biodefense editorial team include:
Can we stop flu from going viral? Influenza, ferrets, humans and pandemic preparedness
Vaccines for life: updates on pneumococcal, meningococcal and TBE vaccination
Applying pharmacokinetic/pharmacodynamic principles in critically-ill patients
Menarini – Update on acute bacterial skin and skin structure infection: current challenges and new therapeutic agents
Climate change and infectious diseases
Targeting ESBLs, CRE and MDR Pseudomonas aeruginosa
Outbreak simulation exercise: who does what and why in case of an infectious disease outbreak
Thinking out of the box to beat biofilms
Focus on streptococcal infections: compelling questions and emerging answers
Management of chronic bone and joint infections
Addressing burning questions in the management of community-acquired pneumonia (CAP)
West Nile virus: vectors and animal hosts
HPV testing: beyond testing the cervix
Uncovering infectious diseases: one time, right results
The domino effects of influenza disease in older adults: moving beyond the acute infection to recognise the full public health impact
What we have learned from chlorhexidine and skin cultures and microbiota studies
Monotherapy or antibiotic combination therapy for Staphylococcus aureus infection: time for a change?
Entering a new era of pneumococcal vaccines
The last bastion of AMR: heteroresistance in multidrug-resistant Gram-negative pathogens
Antimicrobial susceptibility testing (AST) with EUCAST methods and breakpoints
Please visit the ECCMID Infectious Diseases Conference 2019 website for more information.