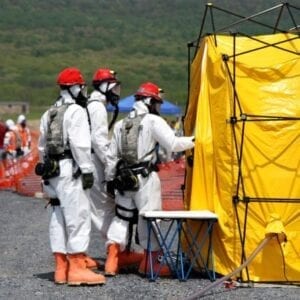 Army National Guard Soldiers participated this month in Vigilant Guard, an emergency preparedness exercise hosted by the Pennsylvania National Guard that brings together civilian, federal and military resources to react to simulated emergencies.
Soldiers from chemical biological radiological nuclear enhanced response force package (CERFP) teams practiced their assigned duties while navigating the scenario of a collapsed building during a simulated chemical leak.
"This part of Vigilant Guard tests the response of personnel from all the areas and what they do," said Sgt. Timothy Bell, assigned to the 28th Military Police Company, 103rd Engineer Battalion, 213th Regional Support Group, and a native of Elizabeth, Pa.
The 228th Engineer Company, 103rd Eng. Bn., 213th RSG comprised the majority of the search and extraction teams, who stood ready to extract victims from the site, even with hazardous materials present.
Team Six, part of the search and extraction team, set up a hasty decontamination site for Soldiers coming out of the structure collapse site after detecting and operating near hazardous materials.
"Our job basically is to create a first entry point into the hot zone," explained 2nd Lt. Brandon Kostishak, team leader for Team Six. "We have to be set up in order for our first team to go down range so that they have a place to come back through to clean off and decontaminate. Our point is very vital to the people downrange that we're saving."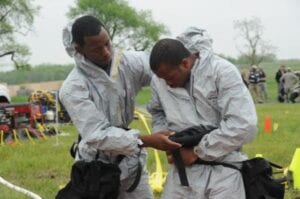 This type of training is vital to the improvement of the abilities of the search and extraction teams to do their jobs in an actual event. "You can sit in a classroom and learn about all this but you're not really going to figure this out unless you get your hands on it", said Kostishak, a Pottstown, Pa. resident. "I believe this training is realistic."
After clearing the decontamination lane, search and extraction team members moved to the medical stations where they removed their hazmat suits.
Sgt. Frank Fornataro, a combat medic with 1st Battalion, 107th Field Artillery, 2nd Infantry Brigade Combat Team, 28th Infantry Division, ensured the Soldiers coming through his station received proper care.
"Today our unit is pulling security on a hazard site," he explained. "Men [Soldiers] are going into the zone and coming out and we're monitoring them. I'm a medic and I'm monitoring their vital signs and making sure they're staying hydrated so they can complete their mission," said the Ellwood City, Pa. native.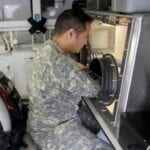 Training at the structure collapse site allowed Soldiers with the CERF-P teams to conduct the most realistic training possible and ensure they react correctly when operating during an emergency situation.
"This type of training is to make sure that the first responders and the military units have the proper training, have the proper equipment and can react to anything that hampers the state of Pennsylvania," concluded Bell.
Article courtesy of 109th Mobile Public Affairs Detachment. Credit: HollyAnn Nicom, adapted.