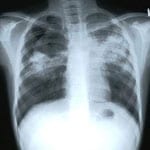 Janssen Research & Development (Janssen) yesterday announced that the U.S. Food and Drug Administration (FDA) has granted Priority Review to the New Drug Application (NDA) for bedaquiline (TMC207) to treat pulmonary, multi-drug resistant tuberculosis (MDR-TB) in adults as part of combination therapy.
The FDA grants priority review to medicines that may offer major advances in care or provide a treatment option where no adequate therapy exists. Under the Prescription Drug User Fee Act (PDUFA), the FDA will aim to complete its review within six months of the NDA submission. The NDA was submitted June 29, 2012.
Bedaquiline kills the bacterium that causes tuberculosis (Mycobacterium tuberculosis) by targeting adenosine triphosphate (ATP) synthase, an enzyme that is essential to generate its energy.
"There is a growing public health need for new treatment options for multi-drug resistant tuberculosis. If approved, bedaquiline would offer the first in a new class of anti-tuberculosis drugs for patients suffering from this serious and deadly disease," said Wim Parys, M.D., Head of the Infectious Diseases therapeutic area at Janssen. "We are working closely with the FDA and other regulatory agencies in high-burden countries to quickly bring bedaquiline to the patients who need it."
Janssen has submitted the drug for regulatory approval on the basis of 24-week data from the phase II clinical development program that evaluated the safety and efficacy of bedaquiline versus placebo to treat patients with pulmonary MDR-TB in combination with a background regimen.
Janssen-Cilag International has submitted a Marketing Authorisation Application to the European Medicines Agency (EMA) seeking conditional approval to use TMC207 as an oral treatment, to be used as part of combination therapy for pulmonary, multi-drug resistant tuberculosis (MDR-TB) in adults.