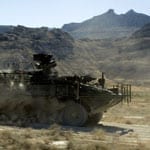 The U.S. Army Contracting Command last week awarded Hamilton Sundstrand a contract for the final production buy and integrated logistics support (ILS) of the Chemical Biological Mass Spectrometer (CBMS II). The contract is worth up to $49,711,941.00.
The award, made on behalf of the Joint Project Manager for Nuclear Biological Chemical Contamination (JPM NBC CA), includes production of a maximum of 181 CBMS II units with a 56-month period of performance and a 35-month ordering period. The guaranteed minimum order is for 26 CBMS II units.
The quantity represents the final buy of CBMS II units needed to support the Stryker Nuclear Biological Chemical Reconnaissance Vehicle (NBCRV) Full Rate Production (FRP) program.
The CBMS II consists of a mass spectrometer module, sample introduction module, and a soldier display unit.  The mass spectrometer is capable of tandem mass spectrometry, which allows both primary-ion and daughter-ion analyses.
"By analyzing both the primary and daughter spectra, the detection algorithm that resides in the high level controller allows the system to detect and identify a list of chemical warfare agents while effectively screening out common battlefield interferents," states the award justification.  "The CBMS II is fully automated and self calibrating.  This system is currently integrated into the Stryker NBCRV and this contract will supply CBMS II systems for installation into the vehicle and for spares."
It is anticipated that two delivery orders will be awarded over the course of the contract to fulfill the Stryker FRP program requirements. The contracting action was listed under Solicitation Number: W911SR-12-R-0003.
Editor's note: Hamilton Sundstrand and Goodrich Corporation recently merged to form UTC Aerospace Systems.
Image courtesy of ArmyTechnology.com