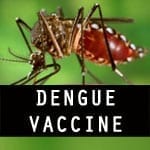 In 2010, researchers launched an early-stage clinical trial of the NIAID-developed candidate dengue vaccine TetraVax-DV, which aims to prevent infection with all four of the viruses that cause dengue. In the trial results, published last week in the Journal of Infectious Diseases, the vaccine was found to be safe and to stimulate a strong immune response.
Dengue fever, prevalent in many tropical and subtropical regions of the world, is caused by any of four related viruses transmitted by mosquitoes
—DENV-1, DENV-2, DENV-3 and DENV-4. The World Health Organization estimates that every year, 50 million to 100 million cases of dengue occur worldwide, resulting in 500,000 hospitalizations of patients with severe disease, many of them in children.
Infection with one dengue virus results in immunity to that specific virus but not to the other three. Research shows that the likelihood of severe disease increases when a person is subsequently infected with a different dengue virus. This observation suggests that the ideal dengue vaccine would be tetravalent to protective against all four dengue viruses.
The Phase I clinical trial tested a single dose of each of four versions of the investigational dengue vaccine TetraVax-DV. Researchers found that all four candidate vaccine combinations induced antibody responses against each of the dengue viruses.
One vaccine combination, TV003, appeared to induce the most balanced antibody response against the dengue viruses. A single dose of TV003 resulted in an antibody response to all four dengue viruses in 45 percent of participants and against three of the four viruses in an additional 45 percent. Overall, an immune response to at least three viruses was seen in 90 percent of the subjects given TV003.
"What is promising about TV003 is that it elicited solid antibody responses after just one dose," explained Stephen Whitehead, Ph.D., of NIAID's Laboratory of Infectious Diseases, who led the development of the vaccine candidates. "Other vaccines in development require two or three injections at higher doses to achieve similar results."
TV003's inexpensive production cost—less than $1 per dose—is critical to its potential use in developing countries, noted Dr. Whitehead. Manufacturers in Brazil, India and Vietnam—countries where dengue is prevalent – have licensed the vaccine technology for production and further evaluation. Phase II trials to evaluate the safety of TV003 and its capacity to create an immune response will begin soon in Brazil and Thailand.
Read to research findings at Oxford's Journal of Infectious Diseases.
Source: NIAID/NIH News