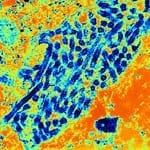 Sarepta Therapeutics, Inc., formerly AVI BioPharma, this week announced positive results from a non-human primate study of AVI-7288, the company's lead drug candidate for the treatment of Marburg virus infection. 
The data showed that intramuscular administration of AVI-7288 resulted in survival rates up to 100 percent in treated subjects, similar to efficacy observed in previous studies that evaluated the drug when administered by intravenous injection. 
"These data reinforce the strong efficacy of AVI-7288, while showing that the drug can be delivered via a convenient intramuscular injection," said Chris Garabedian, President and CEO of Sarepta. "This alternative delivery method to the intravenous route has the potential to greatly enhance the practical utility of AVI-7288 in a mass casualty situation and also serves as a model for delivery of our rapidly adaptable platform for other therapeutic applications." 
The possibility of intramuscular injections could significantly reduce the logistical burden of administering the drug in a crisis, as this method is both easier and quicker to administer.  The intravenous route takes up to one hour while intramuscular administration takes only seconds.
Marburg hemorrhagic fever is a severe and highly lethal disease caused by an RNA virus of the Filoviridae family and classified as a Category A bioterrorism agent by the Centers for Disease Control and Prevention. There are currently no approved treatments for Marburg virus infection beyond supportive care. 
Sarepta is developing the drug under a U.S. Department of Defense (DoD) contract managed by the Joint Project Manager Transformational Medical Technologies (JPM-TMT) Project Management Office, a component of the Joint Program Executive Office for Chemical and Biological Defense (JPEO-CBD). 
In the study, intramuscular injections of AVI-7288 were well tolerated. Efficacy results showed a high degree of survival between 83 and 100 percent in each of the three treatment groups. No subjects survived in the placebo-treated control group. 
Under a separate contract with JPM-TMT, Sarepta is developing an intravenous formulation of AVI-7288, which has demonstrated similar survival rates even when the drug is administered up to four days after exposure to the Marburg virus. 
The work is a collaborative effort between Sarepta and scientists at the U.S. Army Medical Research Institute of Infectious Diseases (USAMRIID), the DoD's leading medical research laboratory for biological defense. 
Source: Sarepta Therapeutics