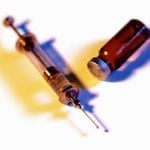 The Department of Health and Human Services (HHS) intends to issue a Request for Proposal (RFP) for ancillary materials such as needles, syringes, combination units and isopropyl alcohol prep pads to meet the vaccine administration needs of the public during a pandemic influenza event.
To ensure coverage, manufacturers are expected to acquire, maintain and rotate inventories of integrated needle and syringe units of various types directed by the Biological Advanced Research and Development Authority (BARDA). The effort seeks to provide long-term solutions that satisfy vaccine administration requirements during pandemic events and account for recent technology advances in vaccine manufacturing where the ability to produce influenza vaccines may outstrip the capability of manufacturers to maintain pace with sufficient syringe units.
Highlighted RFP requirements include the manufacture and purchase availability of up to:
512 million FDA approved integrated needle and syringe combination units
88 million FDA approved needles, safety engineered, of the following sizes: 23Gx1″, 25Gx1″, 25Gx5/8″
88 million FDA approved 3ml Syringes, luer lock, safety engineered
600 million Isopropyl Alcohol Impregnated Prep Pads, sterile, individually sealed, small
300 million FDA approved integrated needle and syringe combination units (conventional)
Supplier must also provide a manufacturing production schedule representative of the surge capacity that can be made available to the USG for pandemic planning purposes. 
The RFP is estimated to be avalabe through FBO.gov on or about May 17, 2013 with proposals being due June 18, 2013.  Multiple awards may result from this solicitation with an estimated award date of around July 2013. Further details are available under Solicitation Number: 13-100-SOL-00015.