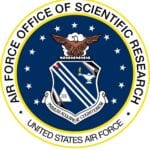 The Air Force Office of Scientific Research will award grants to scientists and engineers who submit winning research proposals through the Air Force's Young Investigator Research Program (YIP).
The YIP is open to scientists and engineers at research institutions across the United States who have received Ph.D. or equivalent degrees in the last five years and show exceptional ability and promise for conducting basic research.
The YIP supports young scientists and engineers in Air Force relevant disciplines and is designed to promote innovative research in fields such as: biology, behavioral sciences, energy, power and propulsion, materials interactions in extreme environments, aero-structure interactions and control, hierarchical design and characterization of materials, space architecture and protection, thermal control, mathematical, information and computer sciences, plasma and quantum physics, theoretical and experimental physics, microwave and photonic systems, information and signal process, and materials-processing techniques.
The awards foster creative basic research, enhance early career development of outstanding young investigators, and increase opportunities to recognize the U.S. Air Force mission and challenges in science and engineering.
The Broad Agency Announcement (BAA) is available under Solicitation Number: BAA-AFOSR-2013-0005. The proposal deadline is September 15, 2013.
Source: AFOSR