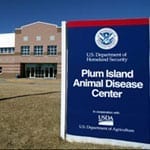 The Department of Homeland Security has awarded a sole source extension contract to The McConnell Group of Rockville, Md. for veterinary and laboratory services in support of the Science and Technology Directorate's (S&T) Agricultural Defense Branch Foreign Animal Disease (FAD) Vaccines and Diagnostics Program.
The general requirement is to provide clinical veterinary services, laboratory services (basic and advanced technical) to conduct research and evaluation of FAD counter measure products. These services require a diverse technical labor pool to include research, DVM/PhD, high level laboratory technicians at M.Sc., B.Sc. and basic laboratory technicians. All positions require secret clearances and experience working with Select Agents. Animal efficacy studies are conducted in swine and cattle to support the testing of vaccine materials. This effort requires vivarium support to include clinical veterinarian, animal health technicians, animal care technicians and IACUC compliance staff.
The primary contract with McConnell Group was scheduled to end in December 2013. The current extension bridges the services until the government can complete pre-solicitation work for a new award, estimated to be made in the first quarter of 2014.
Source: FBO.gov