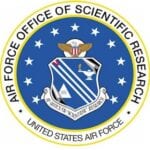 The U.S. Air Force Office of Scientific Research (AFOSR) has renewed a Broad Agency Announcement (BAA) to foster and fund research within the Air Force Research Laboratory, universities, and industry laboratories to ensure the transition of research results to support U.S. Air Force needs.
Using a carefully balanced research portfolio, research managers seek to create revolutionary scientific breakthroughs enabling the Air Force and U.S. industry to produce world-class, militarily significant, and commercially valuable products.
Highlighted research groupings and special programs include:
Basic Research Initiatives
Dynamical Systems and Control
Quantum and Non-Equilibrium Processes
Information, Decision and Complex Networks
Complex Material and Devices
Energy, Power and Propulsion
Small Business Technology Transfer Programs
Young Investigator Awards
University Research Initiative Programs
The BAA remains open until replaced by a successor BAA. Proposals may be submitted at any time. However, those planning to submit proposals should consider that AFOSR commits the bulk of its funds in the fall of each year.
Further details are available under Solicitation Number: BAA-AFOSR-2014-0001.