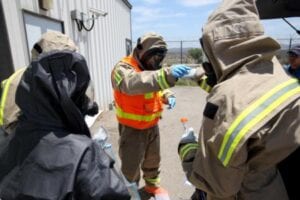 Marines, working in cooperation with local agencies from the San Diego area, responded to a biohazard incident simulation aboard Marine Corps Air Station Miramar last week.
Participants in the Exercise Phantom Vector included Aircraft Rescue and Firefighting Marine personnel, the San Diego Fire-Rescue Department, MCAS Miramar Fire Department and San Diego County Department of Environmental Health Hazardous Incident Response Team.
"We set up an instant command, and we had all the entities get together and make their plan on how they were going to get samples from around the area that was contaminated," said Mark Manring, the chemical, biological, radiological and nuclear protection officer with MCAS Miramar. "This exercise has given the military and county a good chance to work together."
The MCAS Miramar Fire Department set up a decontamination site as a safety precaution before any samples are taken in case of accidental exposure at the contaminated area. Aircraft Rescue and Firefighters were assisted by the Hazardous Incident Response Team to learn the proper procedures to collect the samples. Once the samples were bagged and stored, the Marines returned to the decontamination site and proceeded to be decontaminated by the MCAS Miramar Fire Department. The samples collected are then sent to the San Diego Vector Disease and Diagnostic Lab where they are tested for a contaminant.
"This type of training helps us learn how the other sections are going to work with us," said Pfc. Aaron Allen, an Aircraft Rescue and Firefighting specialist with Headquarters and Headquarters Squadron. "This exercise gives MCAS Miramar the opportunity to ensure the base is prepared for an biological incident."
Source: Owen Kimbrel/DVIDS, adapted.