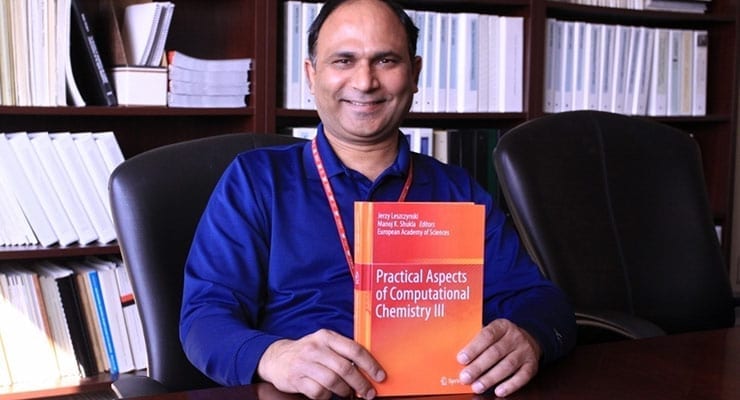 Researchers with the U.S. Army's Engineer Research and Development Center (ERDC) recently celebrated the publication of their latest book in a series on computational chemistry, entitled Practical Aspects of Computational Chemistry III.
Editors of the volume, Dr. Manoj K. Shukla, research physical scientist for the Engineer Research and Development Center, and Dr. Jerzy Leszczynski, professor and presidential distinguished fellow, Jackson State University, tapped into a global network of expertise to reflect the opportunities and potential for the growing, multi-disciplinary field of computational chemistry.
"The topics for each chapter were selected and arranged to provide a sampling of different branches of computational chemistry," Shukla said. "The book is intended to kindle interest in the field as a whole and to provide the reader with the motivation to further explore the issues addressed — and other areas within the field of computational chemistry."
For example, the first chapter describes how computational chemistry methods can be used to simulate scanning tunneling microscopy images of a molecule adsorbed on the surface of silicon. STM is a tool that allows molecules to be observed at the nanoscale, according to Shukla.
Many topics covered in the form of chapters were discussed at the annual international conferences for computational chemistry, "Conference on Current Trends in Computational Chemistry." The conference is organized by Leszczynski, and its 23rd meeting was held in November 2015.
"After publishing the first book in the series, we realized that the topics presented by the conference speakers were very thought-provoking, so we invited some speakers to contribute chapters for the book," Shukla said.
The contributors were not selected solely from the conference, however; Shukla and Leszczynski also invited non-conference attendees to contribute important material. More than 30 researchers contributed material, representing countries as diverse as the U.S., Poland, Vietnam, Brazil, and Japan.
The diversity of contributors speaks to the increasing use of computational chemistry across numerous disciplines, according to Shukla.
"Most people are aware that scientific research is now interdisciplinary; few fields exist that are isolated unto themselves," Shukla said. "Computational chemistry is a storyteller for many different branches of science and technology, including chemistry, physics, materials science, biology, chemical engineering, pharmacology, energetics, geology and others. Through computational chemistry techniques, a researcher can sit in front of a computer and generate the physical, chemical, and biological data of a given material without setting foot in a laboratory."
Consequently, the field of computational chemistry offers many advantages to scientific research.
"Within the field of pharmacology, initial screening of the molecules or compounds can be conducted to test whether they have the potency to perform an action on a particular disease," Dr. Shukla said. "This may save both time and money — and lead to quicker development of a disease treatment. The field also provides data without exposing the researcher to toxic chemicals."
Computational chemistry also adds a degree of human and environmental safety for some researchers, Shukla noted.
"If one is trying to describe the structure of molecules in a high energy state, no experiment exists that can accurately describe them; therefore, computational chemistry methods must be utilized," he said.
Shukla is currently involved in three other publication projects: a book about energetic materials with Dr. Jeff Steevens, Leszczynski, and other researchers from the U.S. Army Armament Research, Development and Engineering Center and U.S. Department of Agriculture, as well as the next in the series of Practical Aspects of Computational Chemistry.
"Publication of these books helps to draw attention to the extent and breadth of the cutting-edge research conducted at the Environmental Laboratory and at ERDC — we do far more than water bodies and dams," Shukla said. "It also brings the possibility of collaboration with other national and international experts in the field."
Story and image adapted from original by Michael Petersen, U.S. Army Corps of Engineers, Engineer Research and Development Center, edited for context and format by Global Biodefense.