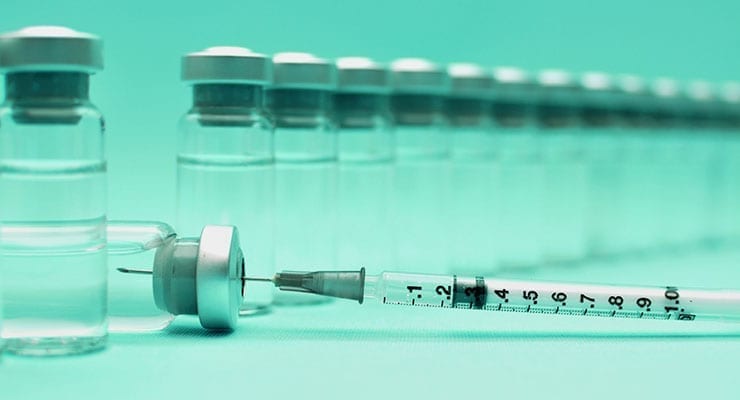 The U.S. Food and Drug Administration (FDA) has approved Seqirus' Flucelvax Quadrivalent, the first and only cell culture-based influenza vaccine in the U.S. to help offer protection against four influenza virus strains.
Flucelvax Quadrivalent helps protect against the two influenza A viruses and two B viruses recommended by the World Health Organization (WHO) and the FDA for the current influenza season, for people aged four years and older.
The vaccine is manufactured in only full-scale cell culture influenza vaccine manufacturing facility in the U.S., in Holly Springs, NC. Cell culture technology does not depend on eggs for manufacturing, and the vaccine is produced in sterile bioreactors. The change to using cells rather than eggs represented the first major development in influenza vaccine manufacturing technology since vaccine production began in the 1930s.
Read more: Quadrivalent Vaccines to Lessen Likelihood of Flu Mismatch
The full-scale cell culture manufacturing facility allows the potential for rapidly increased production of flu shots in response to outbreaks or pandemic. Development of the technology and manufacturing facility was supported by the US government as part of the overall federal public health preparedness posture.
"As the first and only cell culture-derived seasonal influenza vaccine in the US to offer four-strain flu protection for people aged four years and older, Flucelvax Quadrivalent will provide healthcare providers and their patients with an important option to further broaden their influenza coverage," said Gordon Naylor, President of Seqirus.
The traditional seasonal influenza vaccine is a trivalent formula consisting of two strains of influenza A viruses and a single strain of influenza B virus. However, since 1985, two distinct lineages of influenza B virus have co-circulated with varying dominance. The use of a four-strain influenza vaccine like Flucelvax Quadrivalent may now provide protection against both B lineages, which may lead to a decrease in the influenza burden.
Each year in the US, an average of 200,000 people are hospitalized due to flu complications. To reduce morbidity and mortality resulting from influenza, the Centers for Disease Control and Prevention (CDC) encourages annual vaccination for all individuals aged six months and older.
Read more: Pharma Manufacturing and Pandemic Preparedness
"Despite strong recommendations for everyone in the US six months of age and older to be vaccinated against the flu every year, fewer than half of eligible people did so in the 2014-2015 season. This includes children, the group with the highest incidence during community outbreaks," said Dr. Gary S. Marshall, Chief of Pediatric Infectious Diseases at the University of Louisville. "Even healthy people are at risk—they should be vaccinated to protect themselves and to prevent transmission to others."
In clinical studies of adults aged 18 to 49 years, Flucelvax has been shown to be efficacious against influenza caused by vaccine-like strains (83.8%) and by all circulating influenza strains (69.5%). Its quadrivalent formulation was also shown to be immunogenic against the flu in adults aged 18 years and older and children aged 4 through 17. Flucelvax Quadrivalent produced stronger antibody responses to the influenza B virus strain, which was not contained in the trivalent comparator flu vaccine, and is well-tolerated with a safety profile similar to its comparator vaccines.
In July 2015, the CSL Group and its affiliates acquired the influenza vaccine business of Novartis AG in the United States. The influenza vaccine business previously owned by Novartis has been integrated into CSL's influenza vaccine business, which now operates as Seqirus.
See also: Quadrivalent Flu Vaccines Coming; Companies Cite Good Demand (CIDRAP-2013)