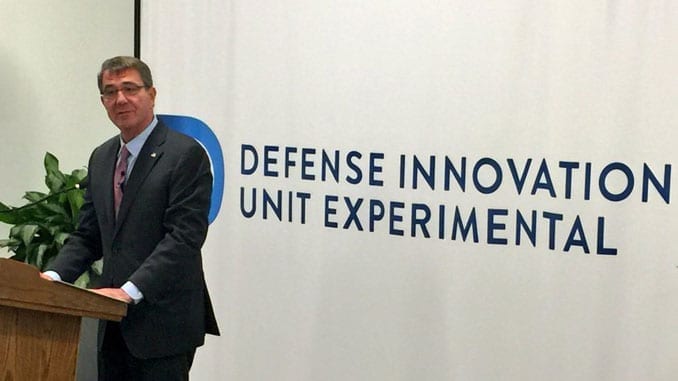 The U.S. Department of Defense (DoD) this week rolled out the its second Defense Innovation Unit Experimental (DIUx), a new office in Boston that joins its west coast counterpart established last year in Silicon Valley. The offices serve as an innovation hub and model for outreach to innovative technology communities.
The two DIUx hubs strategically place the department in a position to access leading-edge technologies, scientists and other experts.
"Over the last 11 months since we first opened the doors of the West Coast office in Silicon Valley, DIUx … has helped us connect with hundreds of entrepreneurs and firms, making great progress in putting commercially based innovation into the hands of America's soldiers, sailors, airmen and Marines," said Defense Secretary Ash Carter.
The DIUx hubs will report directly to the Carter's office, maintain its own contracting capability abd budget resources.
The leadership team for the hub includes Chief Science Officer Bernadette Johnson, former chief technology officer at MIT Lincoln Laboratories, and Boston military lead Col. Mike McGinley, a lawyer and reservist specializing in cybersecurity.
The DIUx operating structure consists of three teams:
Venture Team – identifies emerging commercial technologies and explore their battlefield potential

Foundry Team – identifies technologies that require development or adaptation for military applications

Engagement Team – introduces innovators to national security challenges and the military to entrepreneurs
Carter said he also wants DoD to be part of the coming revolution in biotechnology and the biosciences, because both can have an impact on the health and welfare of the department's men and women in uniform.
"That's why I'm also announcing that DIUx is exploring ways to bring leading minds in the military and DoD who work on biodefense and biological technology together with world-class academic researchers, biotech companies, and entrepreneurs — including those right here in Boston, like [MIT mathematician and geneticist] Eric Lander and the Broad Institute and others," the secretary added.
Like San Francisco, Austin, Seattle and other places, said Carter, Boston is an ecosystem of companies, universities and research institutions that exemplifies America's innovative culture, especially in the union of biosciences, engineering and data, areas that together could yield new ways to fight infectious diseases or help develop new materials that can regenerate, respond to their environment or learn and evolve.
A high return on investment will mean improved warfighter capability, with innovative technologies being demonstrated and incorporated into regular defense acquisition programs of record, the secretary said. "That will require more companies that might not look for defense business getting into our game, and also established defense companies having more access to talent," Carter added.
Source: Cheryl Pellerin, DoD News, edited for context and format by Global Biodefense.