Personnel assigned throughout the U.S. Navy's Command Navy Region Northwest (CNRNW) rolled up their sleeves Nov. 1-2 to administer a mass influenza vaccination mission during a mock pandemic exercise, PANDEMIC-17.
The two-day exercise focused on specific shore-based active duty service members, along with activated Reservists, critical civilian personnel such as federal fire department, Department of Defense (DoD) police and base security personnel. Holding the influenza vaccination exercise helps validate multiple response capabilities to a pandemic influenza scenario.
"This is a unique opportunity for us to take the Navy's seasonal influenza vaccine annual requirement and carry out Navy Region Northwest's response plan in a pandemic influenza scenario," noted Lt. Rohan A. Jairam, NHB Environmental Health Officer and Head, Preventive Medicine Department. "As a military treatment facility, an exercise of this magnitude will improve our capabilities to work jointly with installation and region entities to achieve a common goal."
PANDEMIC-17 also involved using primary resources such as fire and emergency services, security, Military Treatment Facility (MTF) emergency preparedness, and fleet and family readiness that are necessary to support the fleet, fighter, and family during such an event.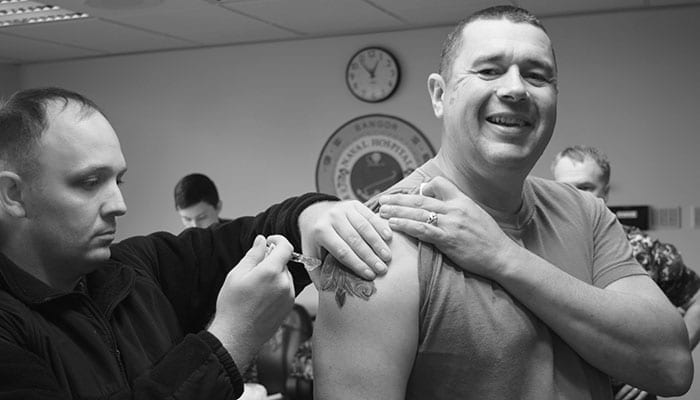 Naval Hospital Bremerton (NHB) and Naval Health Clinic Oak Harbor (NHCOH) teamed up with CNRNW, Naval Base Kitsap (NBK), Naval Station Everett (NSE), Naval Air Station Whidbey Island (NASWI), Naval Magazine Indian Island for the training.
The goal is to have all Navy operational units and MTFs administer the 2017-2018 influenza vaccination to meet the 90 percent vaccination goal by mid-December for active and U.S. Navy Reserve components and Department of the Navy civilians.
"Any pandemic could incapacitate or compromise the readiness status of active duty and civil service personnel. By testing the ability to vaccinate all the shore based personnel who receive medical care from fixed medical treatment facilities, we can exercise and evaluate effective methods to coordinate personnel reporting to PODS, electronic tracking and documentation capabilities, and new technologies to provide up to the minute accountability," said Terry Lerma, NHB Military Treatment Facility Emergency Manager.
"A joint effort is the only way to be successful in any large exercise," added Jairam. "A pandemic influenza outbreak affects everyone. Having exercises like these empowers us to test our resources, and most importantly, identify areas to improve interagency collaboration."
Article adapted from original by Douglas Stutz, Naval Hospital Bremerton. Edited for context and format by Global Biodefense.