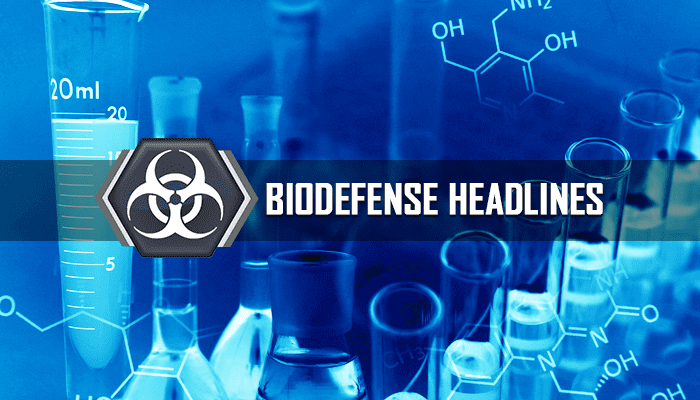 See what we're reading this week at Global Biodefense on topics including protection of the food supply from acts of terrorism, the risks posed by DIY biohackers (to themselves), and lessons from past pandemics.
FOCUS ON EBOLA
As Ebola Flares Once Again, a Rapid Global Response Invites Cautious Hope
It has been an extraordinarily rapid response — and a far cry from the tragically slow reaction by the global community following the West African Ebola outbreak that began in 2014. ealth officials have set in motion a plan to distribute an experimental vaccine, logistics experts have established an airbridge to ferry responders and equipment into the epicenter, and the director-general of the World Health Organization has flown in from Geneva to take stock. STAT News
UN Migration Agency Supports Ebola Response in DR Congo, Border-Crossings
Over the past few days, IOM, the UN Migration Agency, has raced to support the WHO and the Congolese Ministry of Health in addressing the needs of communities affected by the Ebola outbreak in the Democratic Republic of the Congo. IOM is focusing on population mobility mapping at border-crossings and in the affected province, as well as risk communication and sanitary control. EIN News
Ebola: NCAA Tells Airlines to Be Vigilant
The Nigerian Civil Aviation Authority (NCAA) has called for a high level of vigilance by the Airlines, especially those operating international and regional flights into the country. They are acting on a Public Health Emergency Contingency Plan (PHECP) developed to prevent the importation of any communicable disease into the country. Daily Trust Nigeria
Ebola Again: Preparedness Is Still Underfinanced, but New Opportunities Are in Play
There are at least three new funding mechanisms that might be deployed for preparedness, but they require adjustments—their total amounts, their incentives, and their allocation and focus on results need further attention. In addition to resources and incentives, leadership itself is a critical component of pandemic preparedness. ReliefWeb
SYNTHETIC BIOLOGY
Promoters, Initiators of Transcription and Drivers of Synthetic Biology
Promoter characterisation and engineering is a common and arguably useful component of many synthetic biology studies. This post covers some recent articles about promoter construction and transcriptional control, and a few thoughts on the future directions and applications. PLOS SynBio Community
As D.I.Y. Gene Editing Gains Popularity, 'Someone Is Going to Get Hurt'
As a teenager, Keoni Gandall already was operating a cutting-edge research laboratory in his bedroom in Huntington Beach, Calif. While his friends were buying video games, he acquired more than a dozen pieces of equipment — a transilluminator, a centrifuge, two thermocyclers — in pursuit of a hobby that once was the province of white-coated Ph.D.'s in institutional labs. NY Times
Elevating CRISPR-Cas9
The commercialization of CRISPR, coupled with the commercialization of an AI tool that facilitates its use and improves its accuracy, has heavy implications for biosecurity. As advances in biotechnology continue to democratize and lower the barrier of entry, it is critical for the biosecurity community to find a balance in policy on dual-use technology that will foster scientific discovery while ensuring security against nefarious actions. Pandora Report
A Home Test for Zika? CRISPR May Make It Possible
Three papers published this week in Science show how CRISPR-based systems dubbed DETECTR and SHERLOCK distinguished the Zika virus from the closely related dengue virus in samples, as well as the cancer-causing human papillomavirus. Science Magazine
ANTIMICROBIAL RESISTANCE
How to Combat Emerging Artemisinin Resistance: Lessons from "The Three Little Pigs"
It is rare to come across an Aesop's fable in respectable journals. It might catch scientists outside the malaria field by surprise to learn that the famous story of "The Boy Who Cried Wolf" has been repeatedly compared to the threat from artemisinin-resistant malaria parasites, including the two latest reports on the rise of a specific haplotype in Cambodia and Thailand, sensationally dubbed "Super Malaria" by the media. PLOS Pathogens
Bacteria Resistant to Last-Resort Antibiotic Missed By Standard Tests
Emory microbiologists have detected heteroresistance to colistin, a last-resort antibiotic, in already highly resistant Klebsiella pneumoniae, a bacterium that causes blood, soft tissue and urinary tract infections. This is concerning because Klebsiella is a more common cause of infection than Enterobacter, and these isolates were carbapenem-resistant, which means that they might actually be treated with colistin. Emory University
AGRODEFENSE + FOOD SAFETY
Can a Genetic Weapon Combat One of the World's Major Crop Destroyers?
Scientists may have found a way to fight the spotted wing fruit fly using a strategy called gene drive, which can spread genes rapidly through a population. When coupled with a lethal "cargo gene," the approach could kill the flies in their tracks when exposed to a specific chemical compound, or just simple summertime heat. Science
Diseases, Disease Triangle and Diagnosis
When it comes to disease, it's important to remember which parameters we can control and how. The disease triangle is a concept used by plant pathologists to explain factors necessary for disease to occur. Disease will only occur when a virulent pathogen is present, the plant is susceptible to the pathogen and the environment is conducive for disease. If one of the three components is absent, then disease will not occur. Greenhouse Canada
Why E. coli Keeps Getting into Our Lettuce
Food-safety experts say convenience greens — those handy bags of chopped and washed salads — carry an extra risk because they come in contact with more people and machinery before they arrive on your plate. Seattle Times
Protecting the Food Supply from Intentional Adulteration, such as Acts of Terrorism
Ryan Newkirk, Senior Advisor for Intentional Adulteration with the Food Defense and Emergency Coordination Staff at FDA and Jon Woody, Director, Food Defense and Emergency Coordination Staff, talk about the FDA Food Safety Modernization Act (FSMA) and what the FDA is doing to support industry compliance. FDA
INDUSTRY NEWS
Helperby Therapeutics Phase 1 Results for Combination Antibiotic Therapy
The combination is azidothymidine (AZT), a new class antibacterial, and low dose colistin and is active against all three WHO Critical Priority Pathogens. AZT and colistin act synergistically against carbapenem and colistin-resistant Enterobacteriaceae (CRE) infections. Business Wire
Sinovac Forced to Temporarily Suspend Hepatitis A Vaccine Production Line
Sinovac has been forced to suspend production at its plant for hepatitis A vaccine, and to destroy the bulk of its hepatitis A vaccines being produced at its Shangdi site, which is capable of producing approximately 3.5 million doses of finished product hepatitis A vaccines. Yahoo Finance
GSK's Next-Gen HIV Battle Against Gilead is Already Taking a Toll on Growth
GlaxoSmithKline execs touted their HIV growth drive this week, pointing to next-generation medications Triumeq and Tivicay as the fuel. But both drugs actually fell short of analyst forecasts—and that's thanks to archrival Gilead Sciences and its newly launched Biktarvy. Fierce Pharma
HISTORICAL REFLECTIONS
The 1918 Flu Pandemic: Photos from a Century Ago
One hundred years ago, an outbreak of influenza spread rapidly across the world, and killed more than 50 million—and possibly as many as 100 million—people within 15 months. The speed of the pandemic was shocking; the numbers of dead bodies overwhelmed hospitals and cemeteries. The Atlantic
Holding on to Culture: Effects of the 1837 Smallpox Epidemic on Mandan and Hidatsa
The Mandan and Hidatsa tribes located in modern day North Dakota have a rich history characterized by elaborate social and religions structures and trade based economic systems; however, because of their stationary lifestyles and increased European and American trade, the Mandan and Hidatsa faced substantial loses during the 1837 smallpox epidemic. Butler University
Population Isolation Predicts the Severity of Historical Human Epidemics
For many organisms, geographically isolated populations (e.g., populations distant from the mainland) experience more severe epidemics, including after long periods of isolation. Global Ecology and Biogeography (abstract)
Germany's World War II Bioterrorism Program
Officially, the Nazis forbid the development of chemical and biological weapons. However, the Germans would study launching malaria infected mosquitos on their enemies at Dachau concentration camp and the pontine marshes of Italy would be flooded to instigate malaria outbreaks in Allied troops after their invasion in 1943. Illinois Public Health Association
United States World War Two Bioterrorism Program
Fears of German utilization of bioterrorism would lead to the United States developing their own program with the establishment of Camp Detrick, Maryland in 1942 under the direction of the War Research Service. The American program was definitively offensive in nature with research and development into weaponizing both anthrax and botulinum toxin; reaching the point where munitions were loaded and stockpiled for delivery of both organisms. Illinois Public Health Association
How Ancient DNA is Transforming Our View of the Past
"I think Africa is a place that's deeply under-represented. There are maybe only 20 genome sequences in what is the most diverse place in the world – the place with the deepest and most complex human history," said Prof Reich. BBC