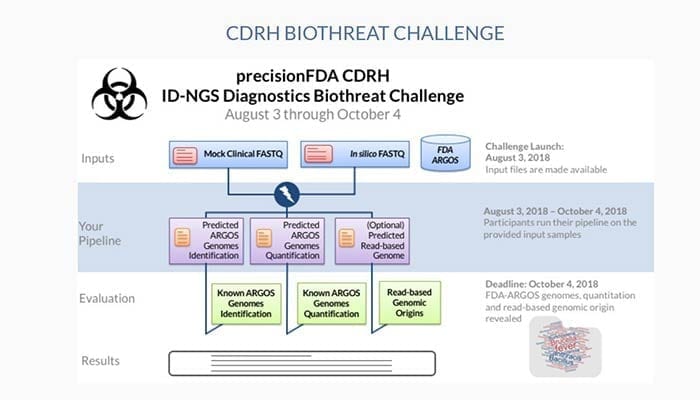 To encourage the development and improvement of Infectious Diseases Next-Generation Sequencing (ID-NGS) analytical methods, precisionFDA – the community platform for NGS assay evaluation and regulatory science exploration – has launched the precisionFDA CDRH Infectious Disease NGS Diagnostics Biothreat Challenge.
Professional and citizen scientists are invited to test their bioinformatics skills and software tools in a challenge to identify pathogens from the FDA-ARGOS database within host samples using NGS short-read data.
The focus of this challenge is to enable tool developers to test their algorithms on blinded mock-clinical and in silico metagenomics samples using provided regulatory-grade reference genomes from the FDA-ARGOS database. This will enable the community to look at bioinformatics pipeline performance using a fixed reference genome data standard. The challenge will help familiarize precisionFDA users with the agency's innovative FDA-ARGOS database resource (www.fda.gov/argos).
The challenge is open now through October 4, 2018.
About FDA-ARGOS
A publicly available database for Reference Grade microbial Sequences, called FDA-ARGOS, was established by the FDA and collaboraters in 2014. With funding support from FDA's Office of Counterterrorism and Emerging Threats (OCET) and DoD, the FDA-ARGOS team are initially collecting and sequencing 2000 microbes that include biothreat microorganisms, common clinical pathogens and closely related species.
Currently, FDA-ARGOS microbial genomes are typically generated in 3 phases:
Phase 1 entails collection of a previously identified microbe and nucleic acid extraction
Phase 2, the microbial nucleic acids are sequenced and de novo assembled using Illumina and Pac Biosequencing platforms at the Institute for Genome Sciences at the University of Maryland (UMD-IGS)
Phase 3, the assembled genomes are vetted by an ID-NGS subject matter expert working group consisting of FDA personnel and collaborators and the data are deposited in NCBI databases
Manufacturers who develop sequence-based test to identify infectious agents and/or to detect resistance or virulence markers can use FDA-ARGOS to advance their development programs and to support the regulatory science review of such test. For example, FDA-ARGOS can be used as a tool for in-silico (computer simulation) data analysis.
Additional Resources
Source: Food and Drug Administration