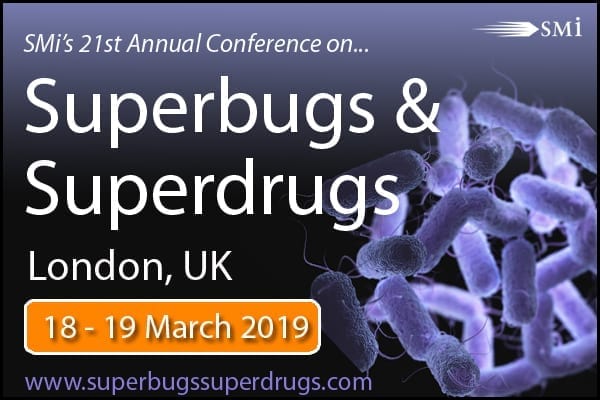 The World Health Organisation is set to speak and present at this year's Superbugs & Superdrugs Conference, taking place in London, UK on 18 – 19 March 2019.
As the worldwide danger of antimicrobial resistance remains a threat, the scientific community continues to inspire the global commitment to tackling multidrug-resistance.
Aiding this is SMi's 21st Annual Superbugs & Superdrugs conference, which will gather international leaders from pharmaceutical companies, academia and the wider scientific community together with regulatory agencies and public-private partnerships to address the challenges and potential solutions to antibiotic resistance.
SMi is delighted to welcome a new speaker to this year's line-up: Dr Peter Beyer, Senior Advisor at the World Health Organisation (WHO), who will provide valuable insights into how they are combating antibiotic resistance.
Dr Beyer will be sharing his vast knowledge and expertise on "The drugs don't work: WHO's role in advancing new antibiotics":
Assessing the clinical and pre-clinical antibiotic development pipeline
Developing target product profiles for priority pathogens
The Global Antibiotic R&D Partnership (GARDP)
How to mobilize private investors for antibiotic drug development
Dr Beyer, a trained lawyer, is currently a Senior Advisor at the World Health Organization, where he leads a dynamic team working on antimicrobial resistance, public health, trade and intellectual property. He is responsible for the growth of a global development and stewardship framework for antimicrobial resistance, also enhancing new innovative funding mechanisms for R&D.
Dr Beyer was instrumental in creating the Global Antibiotic R&D Partnership (GARDP) which he will be discussing in further detail in his presentation, as well as the trilateral collaboration among the World Intellectual Property, the World Trade Organization and the World Health Organisation.
This year's two-day event promises to explore the scientific, regulatory and economic challenges required to combat anti-microbial resistance, specifically focusing on antimicrobial treatment and research development, latest updates on antifungal agents, and much more.
Delegates will also have the opportunity to hear from the biggest names in Pharma, including the Wellcome Trust, F2G, Summit Therapeutics, Meiji Seika Pharma, Akthelia Pharmaceuticals, Centauri Therapeutics, and many more.
Download the brochure on the event website to see the two-day agenda and speaker line-up at http://www.superbugssuperdrugs.com/gbdpr.
Book your place before 14th December to save £200.
Global Biodefense is an official media partner of Superbugs & Superdrugs 2019.