Biological threats are among the most serious threats facing the United States. In today's interconnected world, biological incidents have the potential to cost thousands of American lives, cause significant anxiety, and disrupt travel and trade. Engagement with non-governmental organizations and the private sector is critical to prevent the spread of disease and respond to the next outbreak before it becomes an epidemic.

The Assistant Secretary for Preparedness and Response (ASPR) in the Department of Health and Human Services (HHS) will host a public meeting on April 17, 2019 with non-federal stakeholders to discuss and solicit input on implementing the National Biodefense Strategy, pursuant to National Security Presidential Memorandum 14, signed September 18, 2018.

Implementing the Strategy involves partners among multiple sectors:
Medical
Public Health
Animal Health
Plant Health
Emergency Response
Scientific And Technical
Law Enforcement
Industrial
Academic
Diplomatic
Defense And Security
Intelligence
Nonproliferation And Counterproliferation
This meeting is being held to introduce stakeholders to the Strategy and to solicit feedback from them. Conducted as a series of panels, participants will be asked to discuss particular topics of interest to the Government. Each panel will include ample time for in-depth discussion of the issues surrounding each topic.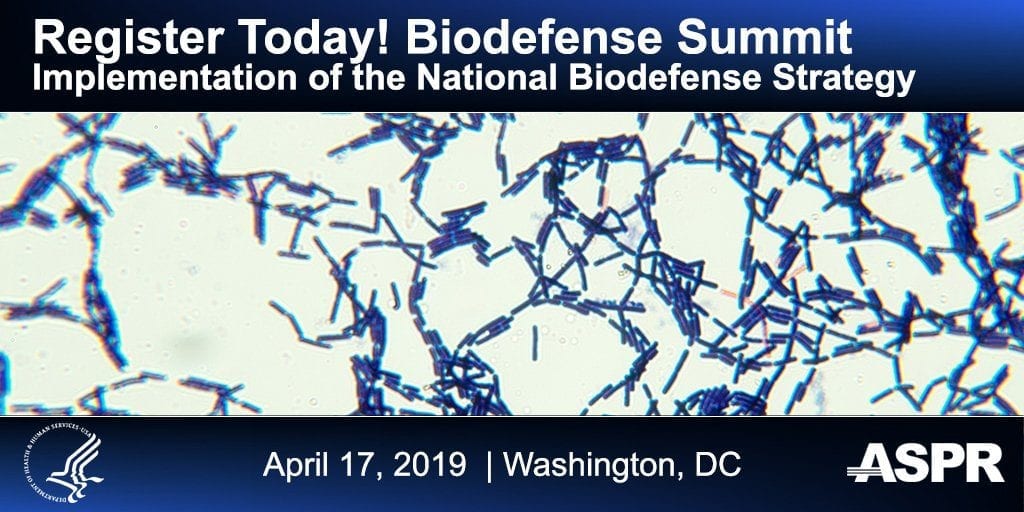 Draft Agenda
8:00 am Arrival/Registration

8:30 am Welcome: Victor Dzau, M.D., President of the National Academy of Medicine

8:35 am Opening Remarks: Kelvin Droegemeier, Ph.D., Director, Office of Science and Technology Policy, Executive Office of the President

8:45 am National Biodefense Strategy: Robert Kadlec, M.D., MTM&H, M.S., Assistant Secretary for Preparedness and Response, Department of Health and Human Services

Discussion Questions:
For each goal area discussed during the event, the following themes will be asked and discussed:
What are the most significant gaps or challenges, either at the national level or within your business sector, related to the implementation of Goal 1 of the Strategy (Risk Awareness)?
What are the highest priority actions addressing Goal 1 of the Strategy that would best advance biodefense?
What new initiatives are planned by your sector that would contribute to filling gaps in risk awareness and informed decision making as it applies to national biodefense
What proposed initiatives would be most effective in enhancing risk awareness and informed biodefense-related decision making by leaders?
9:05 am
Goal 1 – Enabling Risk Awareness to Inform Decision Making across the
Biodefense Enterprise
Goal 1 – Enabling Risk Awareness to Inform Decision Making across the Biodefense Enterprise "The United States will build risk awareness at the strategic level, through analyses and research efforts to characterize deliberate, accidental, and natural biological risks; and at the operational level, through surveillance and detection activities to detect and identify biological threats and anticipate biological incidents."
10:00 am
The National Biodefense Strategy: Recommendation and
Perspective of the Blueprint for Biodefense
Governor Tom Ridge, Co-chair of the Blue Ribbon Study Panel on Biodefense

10:15 am Break
10:35 am
Goal 2 – Ensure Biodefense Enterprise Capabilities to Prevent Bioincidents
"The United States will work to prevent the outbreak and spread of naturally occurring disease, and minimize the changes of laboratory accidents. The United States will also strengthen biosecurity to prevent hostile actors from obtaining or using biological material, equipment, and expertise for nefarious purposes, consistent with the United States Government's approach to countering weapons of mass destruction (WMD) terrorism. Goal 2 will ensure we have the capabilities necessary to disrupt plots, degrade technical capabilities, and deter support for terrorists seeking to use WMD. This goal also recognizes the "dual use" natures of the life sciences and biotechnology, in which the same science and technology base that improves health, promotes innovation, and protects the environment, can also be misused to facilitate a biological attack. The United States seeks to prevent the misuse of science and technology while promoting and enhancing legitimate use and innovation."
11:45 am Lunch

12:45 pm
Goal 3 – Ensure Biodefense Preparedness Enterprise to Reduce the Impacts of Bioincidents
"The United States will take measures to reduce the impacts of bioincidents, including maintaining a vibrant national science and technology base to support biodefense; ensuring a strong public health infrastructure; developing updating, and exercising response capabilities; establishing risk communications; developing and effectively distributing and dispensing medical countermeasures; and preparing to collaborate across the country and internationally to support biodefense."
Goal 4 – Rapidly Respond to Limit the Impacts of Bioincidents
"The United States will respond rapidly to limit the impacts of bioincidents through information-sharing and networking; coordinated operations and investigations; and effective public messaging."
Goal 5 – Facilitate Recovery to Restore the Community, the Economy, and the Environment after a Bioincident
"The United States will take actions to restore critical infrastructure services and capability; coordinate recovery activities; provide recovery support and long-tern mitigation; and minimize cascading effects elsewhere in the world."

4:15 pm
Cross-cutting Themes
How can the Federal Government best engage and coordinate with nonFederal stakeholders to fulfill the goals of the Strategy?
Are there any new or innovative approaches for either the Federal Government or Stakeholders to take in order to better implement the goals of the Strategy?

4:50 pm Closing Remarks: James McDonnell, Assistant Secretary of Countering Weapons of Mass Destruction, Department of Homeland Security Council
5:00 pm Meeting Adjourns
Participate In-Person or by Webinar
The meeting is open to the public and free of charge. Pre-registration is encouraged, however, registration will be restricted due to limited space. Information about registering for the meeting is available at http://www.phe.gov/​biodefense. Any groups or individuals who cannot attend the meeting are encouraged to submit written comments.

Participants may attend in person or via webinar. Registration is required for both on-site and virtual attendance.

For those unable to attend, a summary of the meeting will be made available at http://www.phe.gov/​biodefense after the event.
Call for Public Comments
Even though space or time constraints may preclude some interested members of the public from attending, the public is encouraged to submit written comments on questions addressed in this public meeting. These questions concern such matters as the identification of gaps and opportunities for improvement in biodefense. Comments should be submitted to ASPRBIO@hhs.gov by May 1, 2019.