In 1960, Frances Kelsey was a recently appointed medical reviewer at the U.S. Food and Drug Administration. The new drug application (NDA) for Kevadon, or thalidomide as it is better known, was her second file. "They gave it to me because they thought it would be an easy one to start on," she said. "As it turned out, it wasn't all that easy."
The applicant was William S. Merrell Inc. of Cincinnati, an American pharmaceutical company with plans to manufacture thalidomide under license from Chemie Grünenthal, a family-owned West German company. As it turned out, Grünenthal had a record of rushing bad and inadequately tested drugs to market.
The way the approval system worked at the FDA, if staff identified issues within the 60 days, a notice could be sent requesting further information. The company would have to submit a new NDA, and the 60-day clock would begin to run all over again. Two days before the deadline, after which approval would be automatic if she did nothing, Dr. Kelsey mailed a notice declaring the application incomplete; in her words, "the chronic toxicity data are incomplete and, therefore, no evaluation can be made of the safety of the drug when used for a prolonged period of time."
Company executives insisted that Dr. Kelsey was depriving the American people of an amazing drug. They complained to Dr. Kelsey's superiors that she was fussy, nitpicking, stubborn, unreasonable and obstructionist. Extensive efforts to both undermine and pressure her followed over the coming months.
Although Dr. Kelsey had no way of knowing it at the time, Grünenthal had received hundreds of reports of severe peripheral neuritis attributable to thalidomide, and 1,500 reports of other side effects, all of which the company summarily dismissed. Privately, however, the company was worried, and with good reason.
Read the rest of the story at The Globe and Mail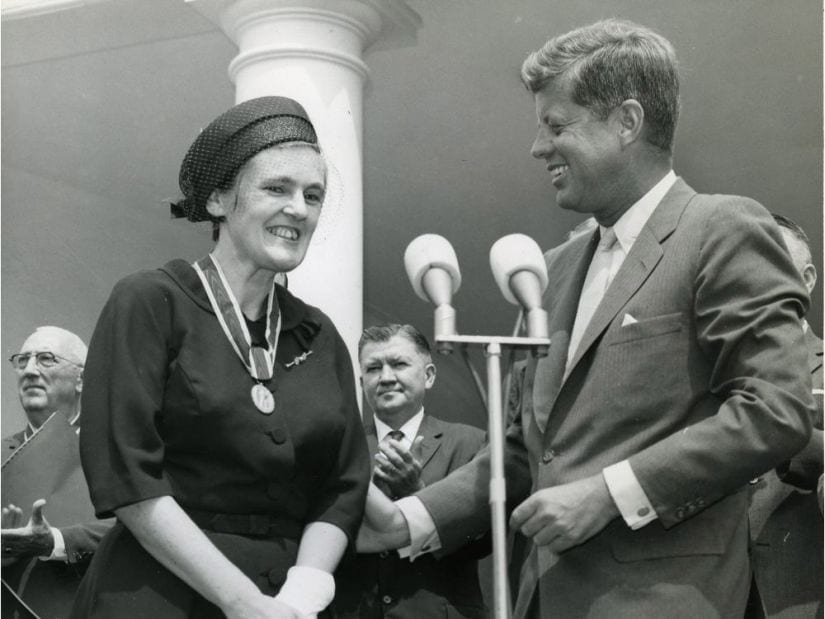 On August 7, 1962, President John F. Kennedy awarded Frances Kelsey the highest honor given to a civilian in the United States, the President's Award for Distinguished Federal Civilian Service. She was the second woman to ever receive the award.
Kennedy acknowledged "Her exceptional judgment in evaluating a new drug for safety for human use has prevented a major tragedy of birth deformities in the United States. Through high ability and steadfast confidence in her professional decision she has made an outstanding contribution to the protection of the health of the American people."