Project BioShield has revolutionized the way the United States addresses health security threats, developing essential public-private partnerships for medical countermeasure development.
The Pandemic and All-Hazards Preparedness and Advancing Innovation Act of 2019 (PAHPAIA), signed into law on 24 June 2019, reauthorized Project BioShield's Special Reserve Fund and authorized 10-year funding for product development.
When Project BioShield was initially signed into law 15 years ago, the nation had few medical countermeasures to rely on in national emergencies. BARDA has since supported 27 projects using Project BioShield authorities and funding, adding 15 products to the Strategic National Stockpile. Working with industry partners, 10 of those products have achieved FDA approval and the others are available under FDA Emergency Use Authorization guidelines.
Over the last 15 years, BARDA has leveraged unique partnerships, funding, strong technical expertise and interagency coordination to strengthen the medical countermeasure pipeline so products reach late-stage development support and, ultimately, become available to protect Americans and save lives.
The most practical and cost-effective approach is, whenever possible, to look at products that not only can be used for emergencies, but also have uses in daily medical care, such as burn care, the radiation effects cancer patients encounter, or seizures.
Project BioShield isn't just a funding mechanism; it's a commitment to Americans and a commitment to our industry partners. Moving a medical countermeasure from a good idea to an FDA approved product takes a strong commitment in time, expertise, and long-term investment. Yet in implementing the Project BioShield Act, we discovered another gap: a lack of products in research and development that were advanced enough to become candidates for late-stage development and purchase through Project BioShield.

Rick A. Bright, Ph.D., BARDA Director
In some cases, BARDA has worked with companies to expand indications for existing products. For example, three medical countermeasures are now FDA-approved to treat patients suffering bone marrow and blood cell damage from acute radiation syndrome. All three of these products were already licensed drugs used to treat patients undergoing radiation therapy for cancer. Project BioShield funding was used to conduct the critical studies needed to expand the indications for these products so they could also be used to treat the damage caused by acute radiation syndrome in a radiation emergency. Using such drugs is helpful in emergencies because healthcare facilities already stock the drugs, and clinicians are already familiar with using them.
Working with BARDA
Companies interested in partnering with BARDA on medical countermeasures to combat chemical, biological, radiological, or nuclear (CBRN) threats, pandemic influenza or other emerging infectious diseases, can get insights and strategic advice from HHS/ASPR Biomedical Advanced Research and Development Authority (BARDA) at a TechWatch meeting.
BARDA TechWatch meetings are a chance to introduce your proposed solution that may meet one or more of BARDA's current priorities, and are the beginning of an important dialogue. Typically, you will meet with a panel of scientific, technical, and contracting professionals during your meeting that is chosen based on information that you provide.
A BARDA TechWatch meeting may also include professionals from other government agencies with related portfolios, such as the National Institutes of Health, the Centers for Disease Control and Prevention, the Department of Defense, or the Department of Veterans Affairs.
BARDA awards advanced research and development funds based on proposals submitted under a rolling BARDA Broad Agency Announcement.
Under the BARDA BAA, companies, large or small, can apply for advanced research and development funding for vaccines, therapeutics, diagnostics, and devices to address chemical, biological, radiological, and nuclear threats; pandemic influenza; and emerging infectious diseases – a total of 17 areas of interest. Once these products mature, some may be supported by Project BioShield, subject to the availability of funds and national health security needs. Some products also may be supported by the private sector for common medical needs in the commercial market.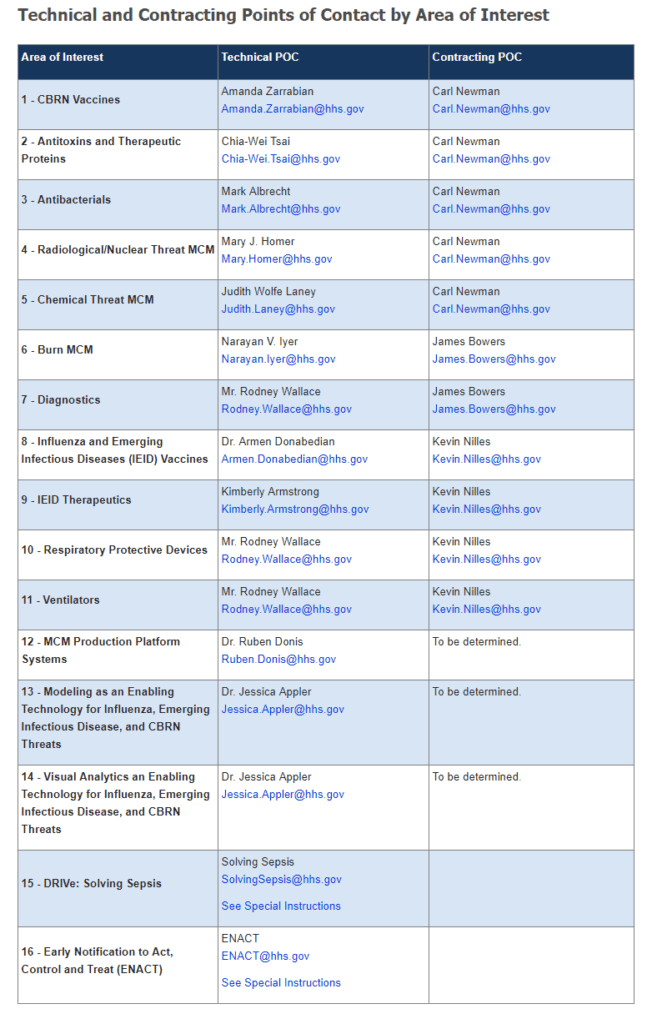 Source: ASPR Blog, adapted.