Johnson & Johnson today announced that its Janssen Pharmaceutical Companies will expand its existing partnership with the Biomedical Advanced Research and Development Authority (BARDA), part of the Office of the Assistant Secretary for Preparedness and Response (ASPR) at the U.S. Department of Health & Human Services, to seek treatment solutions for COVID-19, the disease caused by the novel coronavirus, SARS-CoV-2 (also known as 2019-nCoV).
This latest collaboration will enhance Janssen's ongoing work with global partners to screen a library of existing antiviral molecules, with the aim of identifying compounds with promising antiviral activity against SARS-CoV-2. Currently, there are no vaccines or therapeutics approved by the U.S. Food and Drug Administration (FDA) to treat or prevent novel coronavirus infections.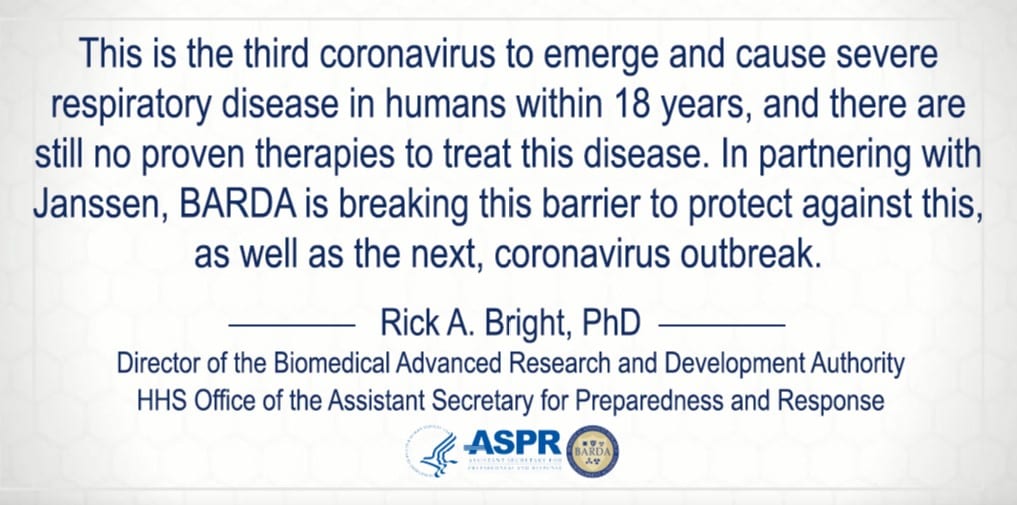 This library to be screened consists of approved therapeutics as well as investigational therapeutics that have completed some clinical trials so that basic safety and pharmacology data are available for these compounds. If screening is promising, candidates then could be considered for further development, including assessment in additional clinical studies.
"We must engage in rigorous research and development in order to identify therapeutic candidates with antiviral activity against the novel coronavirus. Our ambitious goal is to bring forward a solution for patients and ensure future generations do not have to live in fear of the potentially serious consequences of COVID-19," said Paul Stoffels, M.D., Vice Chairman of the Executive Committee and Chief Scientific Officer, Johnson & Johnson. "We have a proven track record in partnering with others to develop and deliver antiviral therapies that serve the needs of diverse populations worldwide. While we are at early stages, we are making that commitment again."
To screen compounds, Janssen will work with the Rega Institute for Medical Research (KU Leuven) in Belgium. The arrangement couples the Institute's infrastructure, high throughput screening experience, and capabilities for studying special pathogens with Janssen's drug development resources and antiviral expertise.
BARDA is also working with Janssen to develop a novel coronavirus vaccine. BARDA has collaborated with the company to develop treatments and vaccines to protect against multiple infectious diseases, such as Ebola and novel influenza viruses with pandemic potential.
Janssen and BARDA will share the research and development costs and mobilize resources to screen a library of antiviral molecules for activity against SARS-CoV-2. The agreement was created under an existing U.S. Government's Other Transaction Authority (OTA), HHSO100201800012C. This is a different agreement from the OTA under which Janssen's SARS-CoV-2 vaccine research is being conducted.