As the COVID-19 vaccines reach more people across the country, some people have asked: Could we delay the second dose of the Pfizer and Moderna vaccines to allow more people to be vaccinated more quickly? And, how safe am I after my first dose?
As an immunologist, I hear this question frequently. The answer is that a single dose is very effective – but I would add that you should still get both doses. The issue is important, however, not only for your personal health but also for the country's health as leaders figure out how to ensure there's enough vaccine for everyone who wants one.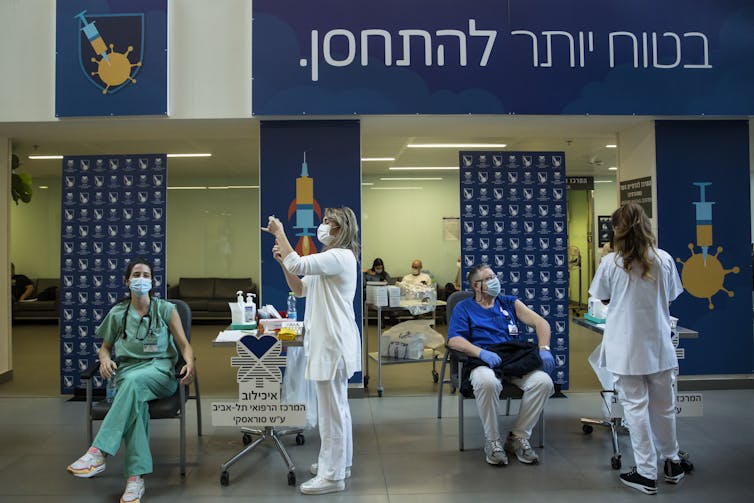 Good News From Abroad
A recent study in Israel showed that a single dose of the Pfizer COVID-19 vaccine is highly effective, up to 85%.
The Sheba Medical Center reported its experience with vaccinating its nearly 10,000 staff members with the Pfizer COVID-19 vaccine. Vaccination there started Dec. 19, 2020, which coincided with the third wave of COVID-19 in Israel. The researchers looked to see the rate of reduction in SARS-CoV-2 infection and COVID-19 disease after vaccination. By Jan. 24, 2021, 7,214 health care workers there had received a first dose, and 6,037 had received the second dose.
Altogether, there were 170 cases of infection between Dec. 19, 2020, and Jan. 24, 2021. Of those, 89 people, or 52%, were unvaccinated; 78 people, or 46%, tested positive after the first dose; and three, or 2%, tested positive after the second dose.
This is consistent with a reanalysis of the phase 3 clinical trial data reported in 2020 in the New England Journal of Medicine. In that study, the 52% protection from the first dose included infections that occurred in the first 10 days after vaccination, when one would not expect the vaccine to have had time to generate protective anti-spike antibodies.
Using the data from the published study of the Pfizer vaccine, Public Health England determined that vaccine efficacy was 89% for 15-21 days after dose 1 – and before dose 2 on day 21. The range was between 52% and 97%. For days 15-28, or up to the first week after the second dose, protection from the first dose was estimated at 91%. The range for this was between 74% and 97%. A second dose would not be expected to confer immunity within that time.
Bottom Line
So what do we know? The Centers for Disease Control and Prevention urges people to get both doses of the Pfizer and Moderna vaccines. You should be reassured that even after a single dose of either of those vaccines, you have very high levels of protection after your body has time to build immunity, about a week. The scheduled second dose of these vaccines makes them even more effective, but at a time where vaccine supplies are limited, there's a lot to be said about prioritizing the first dose for the most people.
ABOUT THE AUTHOR
William A. Petri Jr., M.D., Ph.D., is a Professor of Medicine, University of Virginia. Petri studies immunology and molecular pathogenesis of enteric infections and their consequences. The scope of research includes molecular parasitology of Entamoeba, innate immune host defense against Clostridium difficile, and in Bangladesh acquired immunity to Cryptosporidium. Petri leads the PROVIDE study of the Bill & Melinda Gates Foundation that is exploring in Bangladesh and India the pathogenesis of enteric environmental dysfunction (EED) and its association with oral poliovirus and rotavirus vaccine failures, malnutrition and neurocognitive developmental delay. Petri has served as President of the American Society of Tropical Medicine and Hygiene and Editor of Infection and Immunity, and is currently Associate Editor for PLoS Pathogens, Clinical Infections Diseases and Trends in Molecular Medicine. He has received the Oswald Avery Award of the Infectious Diseases Society of America, the Burroughs Wellcome New Investigator and Scholar Awards in Molecular Parasitology, and the Lucille P. Markey Scholar Award in Biomedical Research. He has served continuously since 1993 on advisory committees for the NIH. Bill Petri received the MD and PhD (Microbiology) degrees from UVA, did medicine residency at Case Western and returned to UVA for infectious diseases fellowship. He spends 3 months of every year caring for patients on the general medicine and infectious diseases services and the remainder is focused on research on infectious diseases, especially the molecular pathogenesis of diarrheal infections in children living in poverty in Bangladesh and the immunology of C. difficile infection in a mouse model and in patients at UVA hospital. William Petri receives funding from National Institutes of Health, the Gates Foundation and Regeneron.
This article is courtesy of The Conversation.