In the midst of conducting missions during a world-wide pandemic, a group of Oklahoma Army and Air National Guardsmen came together and created a joint-service challenge coin as a way to bolster morale during these challenging times.
The servicemembers were activated by Oklahoma Gov. Kevin Stitt to provide support to local communities during the COVID-19 outbreak, and work daily missions to include transporting completed tests to labs to be analyzed, conducting virus tests at long-term healthcare facilities as well as working contact tracing operations.
Oklahoma Army National Guard Specialist Kyle Dennis, 120th Engineering Battalion, 90th Troop Command, designed the coin after discussing ideas with other members from the Muskogee, Oklahoma region.
"A group of us were talking one day about ways we can remember this mission, and the idea of a challenge coin came up," Dennis said. "We had a bunch of ideas and we're able to narrow it down."
Oklahoma Army National Guard 1st Lt. Kyle Downen, 120th Engineering Battalion, 90th Troop Command, is the officer in charge of the Muskogee region and explained the importance he sees in coins like these.
"I think for me, it stems from the tradition of the impact award during [advanced individual training]", Downen said. "The challenge coin is a great way to boost the entire units morale with something that just comes out of your pocket. It's a great way to show your appreciation right then and right there for something amazing that you have seen."
Dennis explained that missions like what they are involved in typically don't happen, and that it has been a unique experience for everyone involved. Creating a challenge coin was just one way for them to look back on these times and remember what they were a part of.
"When you have a row of coins on your desk once you retire, you can look back and it's a story on where you were and what you did throughout your entire career," Dennis said. "The fact that we were able to do this with the Army and Air National Guard, we knew we had to commemorate it somehow."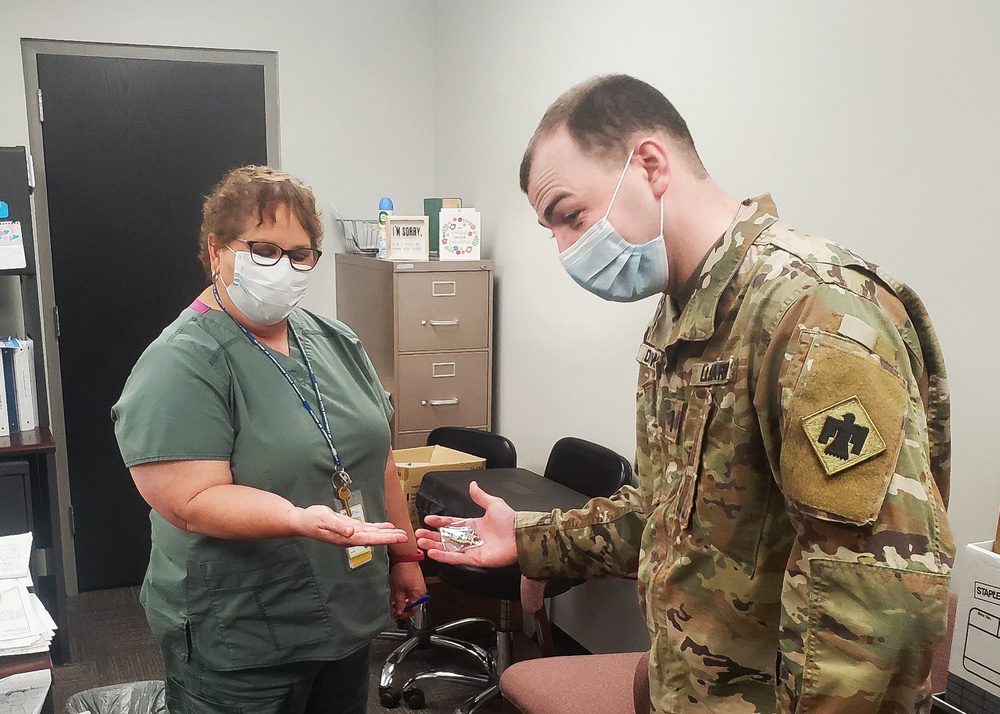 The coin shape is of the State of Oklahoma and features the bio-hazard symbol and a surgical mask on the front. The back of the coin features three ranks: the Air Force rank of Tech. Sgt., the Army rank of Staff Sgt. and 1st Lt.
"We chose to use these ranks because that was the scope of our rank structure here." Dennis noted. "It gives us a way to remember the individual Soldiers that we came and helped our community with."
There are 13 Soldiers and seven Airmen from a variety of fields including engineering, food services, medical, and aircraft maintenance working together for these missions.
"If you're somewhere and you pull out a challenge coin, it automatically attracts a specific group of people," Dennis said. "It's a way of sharing stories and a physical means of connecting with other people."
The coins were made available to the Soldiers and Airmen working the region, and they were also given to the local health department leads that worked with the group throughout the mission as a way to recognize those individuals.
"I even purchased a couple extra coins to give to my supervisors at my civilian job," Downen said. "They are both prior military, and it is a way for me to show them my appreciation during times like these."
Downen noted that it's not likely these Soldiers and Airmen will be involved with anything quite like this again, and that the stories and memories that come from it are worth commemorating.
Article courtesy of Oklahoma National Guard