The DaT Program aims to develop a highly adaptive, all-encompassing biothreat detection modality that minimizes reliance on supply chain constrictions.
The Dial-a-Threat (DaT) project at the U.S. Army Combat Capabilities Development Command – Chemical and Biological Center (DEVCOM-CBC) is harnessing novel synthetic-biology approaches to develop gene circuits that rapidly detect infectious diseases and biothreats.
A cornerstone feature of the DaT program is the ability to reduce reliance on traditional cold-chain supply lines by using freeze-dried reagents. The assays also utilizes cellular extracts, reagents which can be quickly synthesized and scaled, making it a "leaner" logistical biotechnology for austere or resource-limited environments.
These assays have comparable sensitivity and specificity to molecular assays, such as polymerase chain reaction (PCR), and the ease of use of a lateral flow immunoassay (LFI) to determine the presence or absence of a target of interest.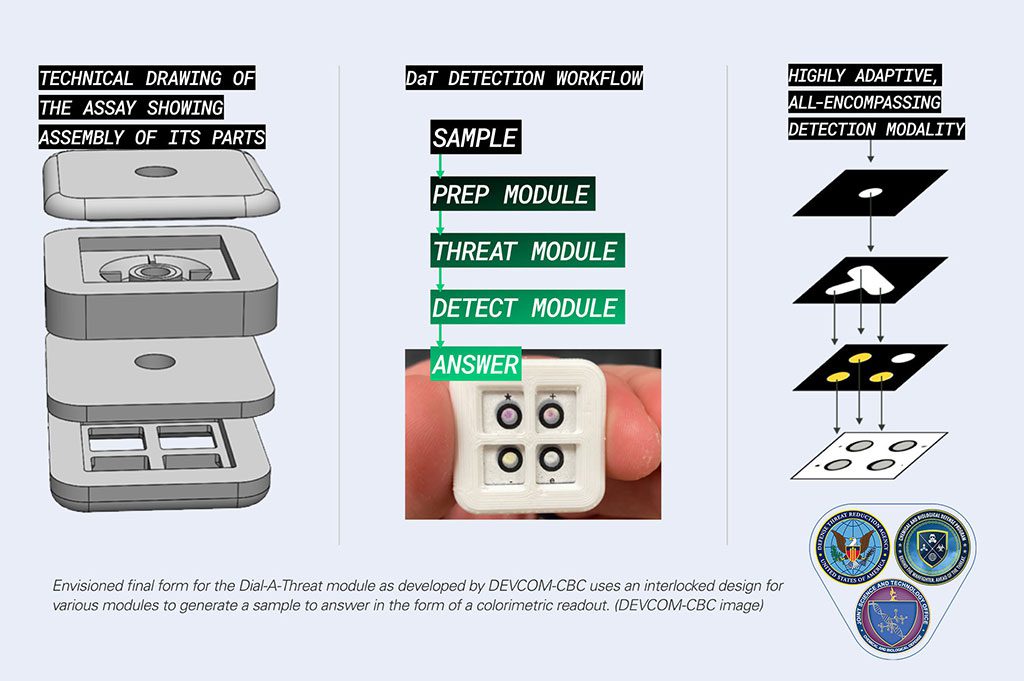 The project shows promise to rapidly scale up assay production. A preliminary proof of concept demonstrated the ability to generate assay designs in as little as a day, builds in weeks, and the capacity to produce and test detection assays against new targets in months. Given this promise of shortened timelines, DaT used Coronavirus Aid, Relief, and Economic Security (CARES) Act funding to quickly pivot and begin development on a SARS-CoV-2 assay and to help accelerate overall development of DaT technology.
The DaT program is part of the investment portfolio of the Defense Threat Reduction Agency's (DTRA) Chemical and Biological Technologies Department in its role as the Joint Science and Technology Office (JSTO) for Chemical and Biological Defense as it aims to develop novel, high-fidelity biodetection technologies that are simple to use, deliver results in under 30 minutes, and are stable for use in austere environments.
READ ALSO:
On-demand biomanufacturing of protective conjugate vaccines Science Advances
Enzyme-Assisted Nucleic Acid Detection for Infectious Disease Diagnostics: Moving toward the Point-of-Care ACS Sensors