Developments in biotechnology are driving an increase in the scope and diversity of biothreats that DoD could face in the next decade.
The future threat landscape requires moving beyond the historical "threat list" approach.
As the planet's climate continues to change and its population grows, emerging infectious diseases are expected to develop and spread more frequently and potentially threaten DoD's readiness to achieve and maintain national defense goals.
The review assesses the biothreat landscape and clarifies biodefense missions, priorities, roles, responsibilities, authorities, and the capabilities needed to enable biodefense.
The U.S. Department of Defense today released the Biodefense Posture Review, outlining reforms aimed to posture the DOD in the face of future biothreats.
"We face an unprecedented number of complex biological threats," said Deborah Rosenblum, Assistant Secretary of Defense for Nuclear, Chemical, and Biological Defense Programs. "The Biodefense Posture Review fully assesses the biological threat landscape through 2035. This review outlines significant reforms and lays the foundation for a resilient total force that deters the use of bioweapons, rapidly responds to natural outbreaks, and minimizes the global risk of laboratory accidents."
In November 2021, the Secretary of Defense issued a memorandum, Biodefense Vision, providing direction for the Department to ensure DoD's preparedness to operate in a biothreat environment and to support the national biodefense enterprise at home and abroad. In that memorandum, the Secretary of Defense directed a comprehensive review of DoD's biodefense posture to bolster the Department's overall defense posture and maintain readiness and resilience against burgeoning threats, whether they are naturally occurring, accidental, or deliberate in origin.
"We're increasing collaboration and synchronizing efforts across the DOD enterprise—everything from policies and authorities, to research, acquisition, and investments—to meet the department's biodefense requirements," said William LaPlante, Under Secretary of Defense for Acquisition and Sustainment. "One of the most important reforms in the Biodefense Posture Review that we have already institutionalized is the Biodefense Council."
The Biodefense Council will build on the intense collaboration of the DoD biodefense enterprise over the past several years and will synchronize and integrate authorities and responsibilities to provide a more empowered and collaborative approach to biodefense.
"The Biodefense Posture Review and the Biodefense Council will further enable the Department to deter biological weapons threats and, if needed, to operate in contaminated environments," said John Plumb, Assistant Secretary of Defense for Space Policy. He adds, "As biological threats become more common and more consequential, the BPR's reforms will advance our efforts not only to support the Joint Force, but also to strengthen collaboration with allies and partners."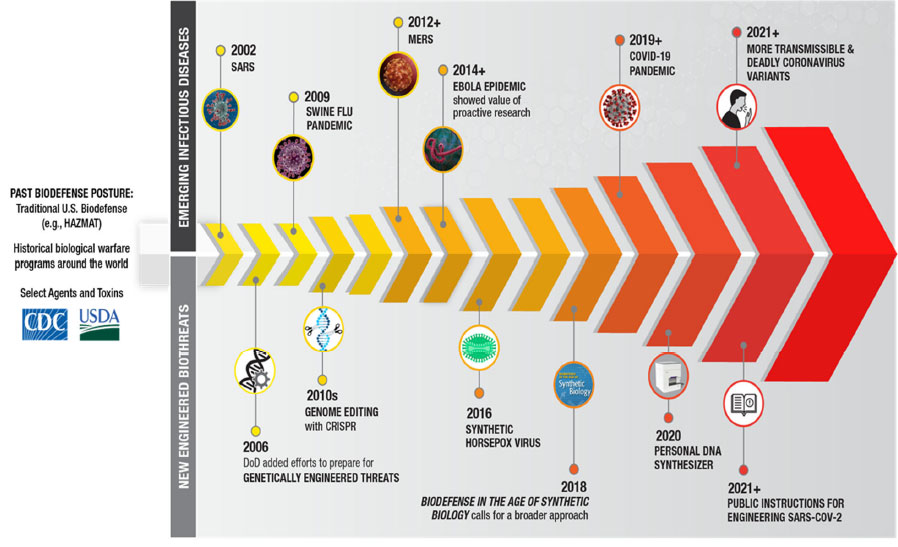 Naturally Occurring Biological Threats
Biological threats can affect humans, animals, plants, and the environment, resulting in significant health, economic, social, and national security impacts. Infectious disease threats do not respect borders. Novel infectious diseases, the resurgence and spread of once geographically limited infectious diseases, zoonotic diseases, and antimicrobial resistance can overwhelm response capacities and make outbreaks harder to control. As seen with the COVID-19 pandemic, an infectious disease outbreak could spread rapidly across oceans and continents, directly affecting the U.S. population and its health, security, and prosperity.
Respiratory diseases (e.g., tuberculosis, seasonal influenza), food and waterborne diseases (e.g., typhoid, cholera), and vector-borne diseases (e.g., malaria, dengue fever) may cause local or regional epidemics. While force health protection (FHP) measures are usually effective in countering these threats, some emerging infectious disease threats (e.g., multiple-drug resistant bacteria, malaria organisms resistant to anti-malarial medications) risk rendering medical countermeasures ineffective. And COVID-19 demonstrated that some of the most challenging infectious diseases are pandemic-capable novel respiratory pathogens that are either unsuspectingly introduced or arise in areas with limited surveillance and laboratory capabilities. Delays in detection and warning, coupled with global travel, now allow such organisms to rapidly spread around the globe.
Accidental Biological Threats
The risk of laboratory accidents may be increasing with the rise in the number of laboratories around the world conducting high-risk life sciences research and research with potential pandemic pathogens without appropriate oversight. Although this research is important for developing countermeasures and understanding and predicting future outbreaks, laboratories with insufficient biocontainment or biosafety protocols and practices exacerbate the risk of an outbreak through laboratory-acquired infections or accidental release of a pathogen into the environment. Even with state-of-the-art equipment and standard biosafety and biosecurity protocols, laboratory accidents are possible due to human error or mechanical failures.
As the biothreat landscape evolves, there is an increased potential for a biological safety (biosafety) event resulting in the unintentional release of pathogens. Growing research in infectious diseases enables the development of testing, pharmaceutical treatments, and vaccines to support public health and the global community. As research in the field of biology and biotechnology expands, so does the increased potential of accidental bioincidents. The increase in accidental biothreats challenge biosafety, biological security (biosecurity), physical security, and other biological containment (biocontainment) considerations, and creates the concern of unintended and dangerous consequences resulting from inconsistent or incomplete review and oversight mechanisms.
Deliberate Biological Threats
The use of biological weapons or their proliferation by state or nonstate actors presents a significant challenge to national security, people, agriculture, and the environment. Multiple nations have pursued clandestine biological weapons programs, and a number of terrorist groups have sought to acquire biological weapons. In addition, advances in biotechnology, including synthetic biology, could make it easier to develop and use biological agents as weapons. In many countries around the world, pathogens are stored in laboratories that lack appropriate biosecurity measures and could be diverted by actors who wish to do harm. Further, thousands of clinical samples generated during an epidemic can pose a biosecurity vulnerability if handled without appropriate security considerations, potentially facilitating access to materials and information that could be used in the development of a biological weapon.
The PRC, Russia, North Korea, and Iran, probably maintain the knowledge and capability to produce and employ traditional pathogens and toxins. These countries historically pursued, and at least one country (North Korea) continues to pursue, pathogens that cause highly infectious or contagious diseases, such as anthrax, plague, and toxins, including botulinum toxin. These nations probably also retain the knowledge and ability to employ these agents if necessary.
Adversaries could also use advances in peptide synthesis technology and metabolic engineering to develop and produce toxins in quantities suitable for a range of employment options. Advances in both synthetic biology and peptide synthesis could enable states to develop a wide range of novel toxins with both incapacitating and lethal effects that are not on a select agent list. These
toxins could include animal toxins, marine toxins, or plant toxins. Peptide synthesis technologies developed in the last decade could allow toxins, including engineered variants, to be synthesized in quantities that are more militarily relevant, raising the concern that they are no longer just suitable for targeted killings.
The United States assesses that North Korea and Russia maintain offensive biological weapons programs in violation of Biological Weapons and Toxins Convention (BWC) obligations and identifies concerns with Iran's activities and its compliance with the BWC. Russia has provided an incomplete acknowledgement of the former Soviet program, has not furnished evidence of the dismantlement or cessation of key activities, and continues secrecy efforts to protect Russia's potentially dual-use biological research and development efforts.
Additionally, the most recent Compliance and Adherence Report with Arms Control, Nonproliferation, and Disarmament Agreements and Commitments raises concerns with PRC compliance with the BWC, based on research and activities with potential dual-use applications. The United States has compliance concerns with respect to PRC military medical institutions' toxin research and development given their potential as a biothreat. The PRC has also released plans to make China the global leader in technologies like genetic engineering, precision medicine, and brain sciences. These Chinese publications have called biology a new domain of war.
The PRC and Russia have also proven adept at manipulating the information space to inhibit attribution, to reduce trust and confidence in countermeasure effectiveness, and potentially to slow decision-making following deliberate use. The U.S. military has been involved in conflict operations during every declared pandemic of the 20th and 21st centuries. None of these events were a result of bioweapon use, but they all challenged the military's operational capabilities. The most likely infectious disease threats to deployed U.S. forces come from endemic diseases (i.e., diseases that regularly occur in a particular population or area).
Emerging and Disruptive Technologies
New technologies, such as big data, artificial intelligence, and genomic modification, have the potential to significantly influence the chemical, biological, radiological, and nuclear (CBRN) environment. Such technologies simultaneously offer the prospect for more effective, resilient, and cost-efficient military and civilian solutions while also representing potential new threats from state and non-state actors. The same biological and chemical science advancements created to develop life-saving medical countermeasures could also be used by potential adversaries to develop new or enhanced agents.
Technologies intended to reduce testing and production inefficiencies, such as biofoundaries and additive manufacturing, create opportunities to reduce the development footprint and increase the number of proliferation pathways available to malign actors. In this way, emerging and disruptive technologies present both risks and opportunities to the United States, its allies, and partners.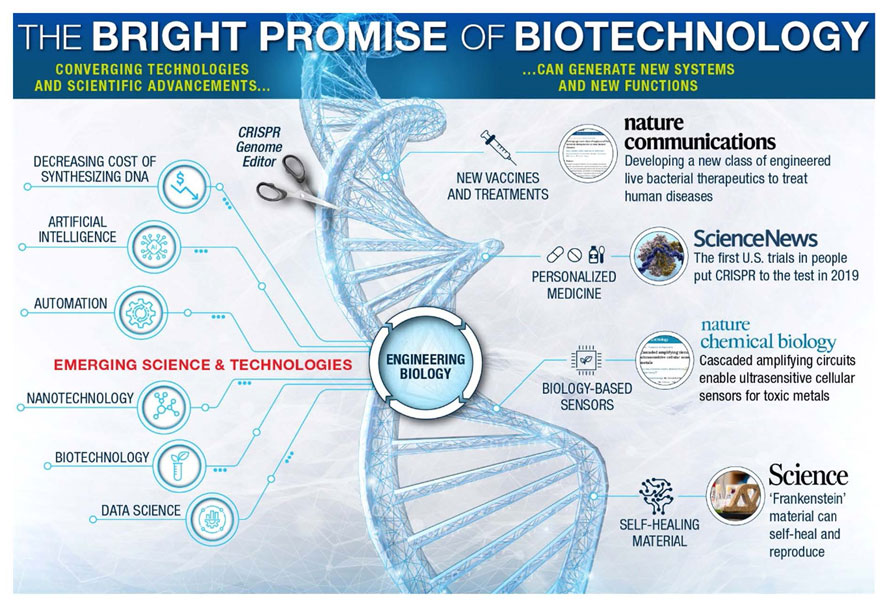 Risks from Bioincidents
The ability to determine a deliberate biological weapons attack is complicated by the potential for an accidental laboratory release and the growing risks from naturally occurring diseases due to climate change. Additionally, reservoirs of naturally occurring pathogens of high consequence are potential avenues for biological weapons research.
Adversaries can also leverage this more complex operating environment to constrain U.S. strategic choices by masking an attack, augmenting other activities, or conducting an opportunistic disinformation campaign. Furthermore, outbreaks are likely to lead to an increase in requests for Defense Support of Civil Authorities, which adds a competing activity to the Joint Force mission of fighting and winning the nation's wars.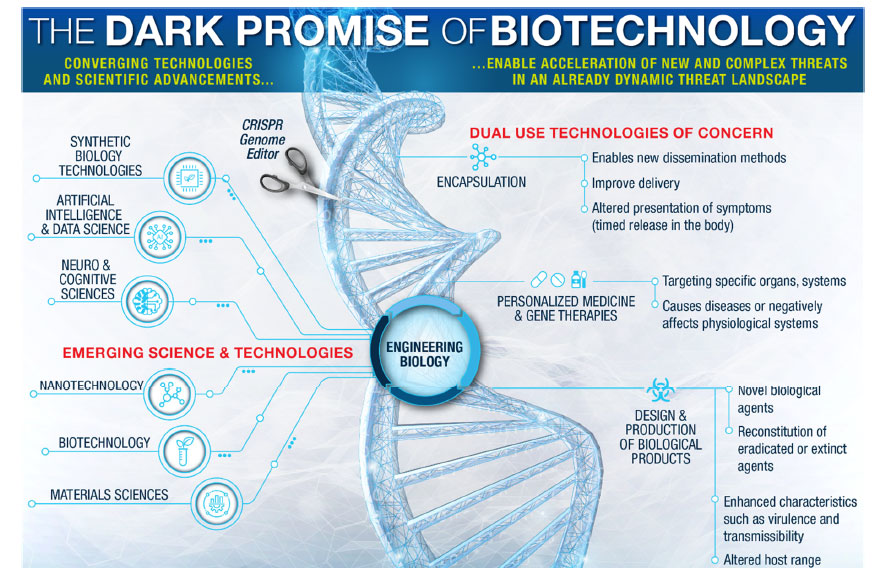 As the biological threat landscape continues to evolve, so must our biodefense capabilities. It is critically important that the Total Force can fight and win in a CBRN-contaminated environment. This importance stretches across the costs and risks of future biological threats, whether natural or human-made, for the Department and the Joint Force.
Lines of Effort to Drive Biodefense Actions
A Total Force resilient to biothreats and biological hazards (biohazards) provides the first step to deter the use of bioweapons and deliberate attack. Such resilience, properly messaged and demonstrated, bolsters integrated deterrence. DoD's extensive biodefense capabilities can be leveraged to deny or greatly minimize the benefit of using bioweapons and further deter the development or proliferation of bioweapons. Should deterrence fail, this resilience will enable the Total Force to operate through contaminated environments and further diminish adversary benefits of deliberate biological attacks.
In concert with improved Total Force resilience, collaborative biodefense engagement with our allies and partners improves our mutual biodefense, strengthens our alliances, improves interoperability, and promotes burden-sharing. These partnerships maximize effectiveness and minimize risk to the Total Force. Reinforcement of international norms, the Committee on Foreign Investment in the United States (CFIUS) process, export controls, information security, and cybersecurity (protection against loss of critical data, capabilities, or intellectual property) will all work to slow and obstruct adversary bioweapon programs. A similarly wide range of response actions could help hold perpetrators accountable for the use of bioweapons and support identification and attribution of naturally occurring diseases or sources of accidental bioincidents.
Given that naturally occurring disease cannot be deterred, DoD requires a resilient force enabled by capabilities that also address emerging disease threats. The ability and capabilities to deter deliberate biological attacks also improve the Total Force's overall resilience to emerging, naturally occurring, infectious diseases of operational significance.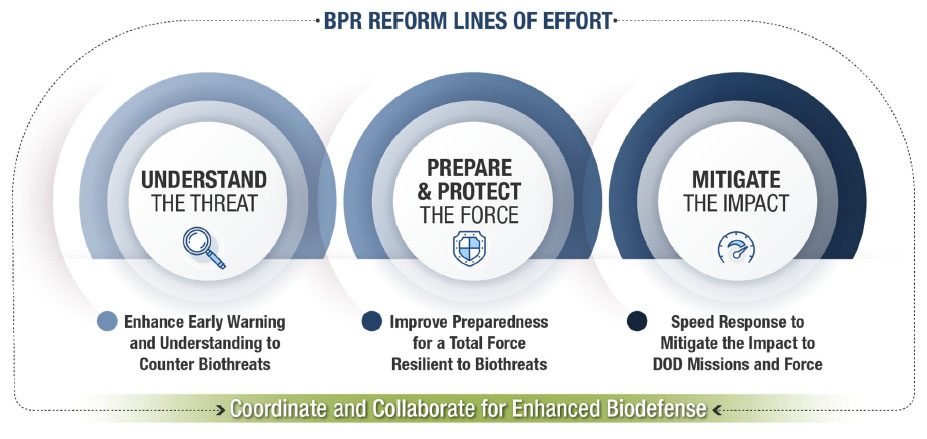 Four BPR reform lines of effort drive biodefense actions and address the potential costs and risks posed by future biothreats, regardless of origin, to DoD missions and the Total Force.
Coordinate and Collaborate for Enhanced Biodefense
Enhance Early Warning and Understanding to Counter Biothreats
Improve Preparedness for a Total Force Resilient to Biothreats
Speed Response to Mitigate the Impact to DoD Missions and Forces
Biodefense Council
The Biodefense Council will serve as the principal forum to advise the Secretary of Defense, the DepSecDef and other DoD leadership on biodefense issues and address the challenges identified in the BPR and beyond. The Biodefense Council will not supplant individual missions in biodefense but will facilitate integration and information flow; enable collective decisions; convene the biodefense enterprise to review topics on a recurring basis; and empower the heads of DoD Components to address tough or acute challenges, when necessary.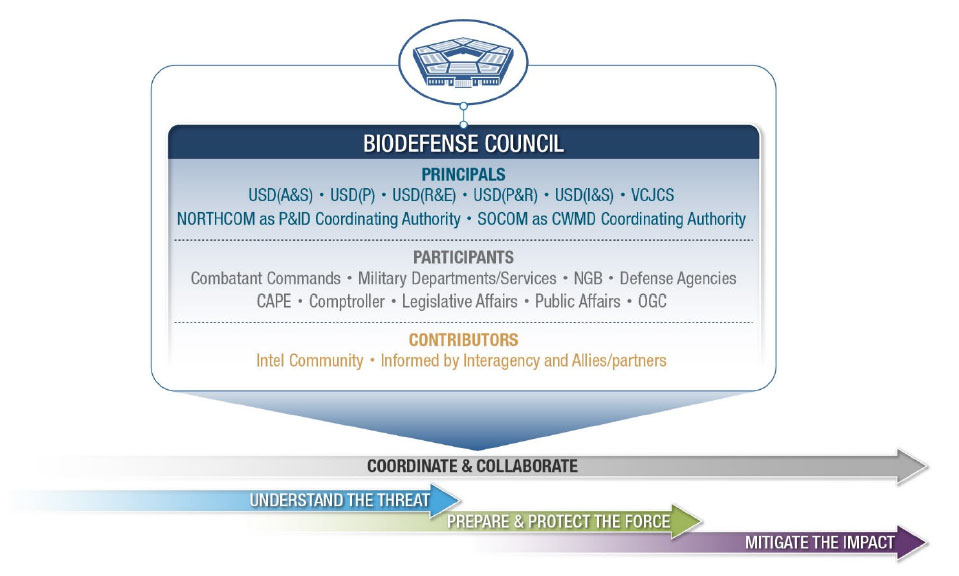 The Biodefense Council will convene to delineate primary functions to enhance collaboration, prioritize threats, and create an efficient approach to address the prioritized threats. Additionally, the Biodefense Council will advance the execution of responses to significant bioincidents and enhance the ability of DoD to mitigate biothreats and biohazards.
The Biodefense Council is chaired by the Under Secretary of Defense for Acquisition and Sustainment (USD(A&S)). The Biodefense Council has a single chair to better organize DoD-wide biodefense responsibilities. The Assistant Secretary of Defense for Nuclear, Chemical, and Biological Defense Programs (ASD(NCB)) will serve as the Council's Executive Secretary.
The Biodefense Council's activities include: providing guidance and oversight for the biodefense posture; synthesizing intelligence products, biosurveillance, early warning, and attribution information in order to warn DoD leadership of potential impacts on posture and missions; reviewing biodefense integrated portfolio priorities and coordinating investment strategy to address readiness shortfalls and modernization needs; and serving as a standing body to facilitate DoD-wide collaboration on biodefense
response activities, as needed, to address bioincidents of national or international significance.
Improve Biothreat Intelligence Collection, Analysis, and Sharing.
The rapidly evolving threat landscape warrants bolstering the Department's intelligence collection and analytic capabilities to
better detect emerging threats of potential operational significance or pandemic potential that may impact our ability to achieve the defense strategy. These improvements will enhance capabilities to collect, analyze, and make reporting readily available to more quickly identify emerging biothreats, increase early warning, and speed threat characterization to understand the potential impact of biothreats on DoD missions, capabilities, and people. Robust intelligence collection, in concert with the work of other departments and agencies, will seek to provide early indication and warning to help manage risk.
Increase Biothreat Situational Awareness Through Biosurveillance
Biosurveillance is a key enabler to gather, integrate, interpret, and communicate essential information and indications of biohazards or disease activity affecting DoD missions or forces.
The Biosurveillance Program covers all CBRN health surveillance and seeks to inform decision makers with early warning of health concerns to enhance protection of the force. Current program efforts include development of a concept of operations for a Hub- and Portal-based approach and conduct of a capability based assessment to address burgeoning threats and prioritize early warning.
The BPR identified opportunities to improve and refine the programmatic strategy for biosurveillance to build DoD's capabilities for early warning, risk awareness, and monitoring for bioincidents. The Biodefense Council will oversee the Biosurveillance Program Strategy to ensure a forward-leaning program with the necessary, clearly defined, ambitious milestones to transform biosurveillance data into actionable, decision-focused information at the tactical, operational, and strategic levels.
Expedite Characterization of Emerging Threats
DoD must be prepared to rapidly develop and deliver capabilities against any potential threat, including currently unknown or novel ones. To be prepared, DoD requires enabling capabilities and analytical capacity to quickly characterize the potential risks posed by emerging or reemerging biothreats, and an assessment of existing and developing capabilities against those threats. This threat characterization must be closely linked to intelligence and biosurveillance improvements that drive early warning.
DoD will pivot away from viewing the threat landscape as a defined list of known biological and chemical agents towards removing or reducing the impact of agents' effects. DoD's enhanced biodefense and pandemic preparedness will enable the Chemical and Biological Defense Program (CBDP) to expand efforts to characterize biothreat agents and support more rapid development and delivery of biodefense products and capabilities.
Recommendations in this area include speeding validation of existing capabilities against emerging threats or rapidly delivering new physical countermeasures (e.g. improved mask filtration, updated detector modalities); more adaptable processes to drive development of novel medical countermeasures and label expansion against novel pathogens; and additional investments in multi-plex and threat-agnostic detection systems.
Reinforce Biorisk Management to Ensure Safe and Secure Research
As DoD pursues R&D to address emerging threats, it must minimize the chances of laboratory incidents, reduce the likelihood of deliberate or accidental misuse of biological agents, ensure effective biorisk (biosafety and biosecurity) practices and oversight, and promote responsible research and innovation.
The BPR recognizes that, since the 2015 biosafety lapses at Dugway Proving Ground, Utah, DoD has made significant changes to improve biorisk programs at DoD laboratories conducting RDT&E with BSAT. The creation of the DoD BSAT Biorisk Program, with the USD(A&S) as the PSA and the Secretary of the Army designated as the DoD Executive Agent, has made progress in improving the oversight, technical review, inspection, and synchronization of biorisk programs across DoD BSAT laboratories. To oversee the possession, use, and transfer of BSAT—which have the potential to pose a severe threat to public, animal, or plant health—all DoD BSAT laboratories must comply with Federal Select Agent Program regulations, which are jointly managed by the CDC and the U.S. Department of Agriculture.
The DoD BSAT Biorisk Program oversees compliance with Federal regulations, coordinates necessary inspections and reviews, and is responsible for ensuring that DoD reports any BSAT releases to the congressional defense committees. The BSAT Biorisk Program includes a scientific review panel that conducts technical and periodic assessment of biorisk protocols and funds projects to promote responsible research, to close scientific knowledge gaps, and to base DoD protocols on sound scientific data to mitigate risk.
The BPR recommends further review for opportunities to strengthen biorisk management within DoD to ensure a coordinated and integrated effort, better posturing DoD's laboratories and performer partners to safely and securely conduct research into prioritized, emerging threats.
The BPR identified opportunities to decrease the risk of accident and improve biorisk management through increased coordination, clarification of responsibilities, and the potential to leverage the oversight activities. To develop DoD's biorisk workforce and reduce the potential for conflicts of interest between lab safety and research outputs, the Chemical and Biological Defense Program (CBDP) is centrally funding the Biosafety Officers supporting DoD biological select agents and toxins (BSAT) laboratories, beginning in FY 2023.
To minimize the risk of overseas accidents, DoD should improve coordination with allies and partners to identify and capitalize on critical defense-specific capabilities. These partnership activities present opportunities to strengthen DoD transparency and compliance with international standards and norms and serve to counter disinformation asserting DoD biodefense activities
support an offensive weapons program.
BPR recommendations also include more proactively countering adversary mis/dis-information campaigns and rhetoric around biodefense activities and that attempt to undermine peaceful efforts.
Read the full report: U.S. Department of Defense 2023 Biodefense Posture Review