2019 FDA Science Forum
September 11, 2019

-

September 12, 2019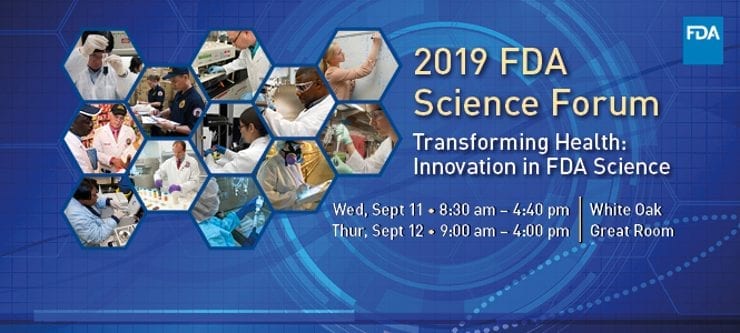 The 2019 FDA Science Forum will be held on 11-12 September 2019 in Silver Spring, Md. The event may be attended in-person or via Webcast (pre-registration is required).
FDA's Science Forum welcomes the public, industry, academia, patient advocates, sister agencies, and current and potential collaborator to learn how FDA's researchers are using novel science and technologies to inform FDA's regulatory decision-making—and drive innovation.
Agenda items of interest highlighted by the Global Biodefense staff include:
Emerging & Pandemic Threat Preparedness
Bio-Terrorism Regulations and Food Security
FDA Food Defense Efforts – A Preventive Approach to Food Terrorism
CBER-Regulated Products: Preventing and Mitigating Shortages
Violent Non-State Actor Use of Food as a Delivery System: Comparing ideological and Non-Ideological Perpetrators
Product Availability: A Drug Shortage Perspective
MetagenomeTrakr Pilot Program for Rapid Foodborne Pathogen Detection
Avian Influenza A Susceptibilities to Pulmonary Surfactant Protein D: Confirmation of N-glycan sub-type as a Pathogenic Factor in Influenza
Immune Responses to Zika Infections
Innovation in Science: Protecting People from Emerging Infectious Disease Threats
Foodborne Outbreak Investigations in the Whole Genome Sequencing Era
Tracking antibiotic resistance in Salmonella: The role of the National Antimicrobial Resistance Monitoring System
Deep Learning for Polypharmacy and Drug Repurposing
C. elegans for Rapid Developmental Neurotoxicity Assessment of Mixtures
Cardiac and Hepatic Cellular Systems to Model Human Drug Effects
The VICTRE Project: The First All-In-Silico Imaging Clinical Trial
Digital Biomarkers Discovery from Patient-Generated Health Data
AI at FDA: Potential Utility and Regulatory Challenges
Advancing Digital Health and Artificial Intelligence
Impacting Public Health Through Electronic Media: Empowering Consumers, Patients, and Other Stakeholders
MetagenomeTrakr Pilot Program for Rapid Foodborne Pathogen Detection
Preclinical pharmacology of novel synthetic opioids appearing in clandestine drug markets
Assessing the structural and pharmacological similarity of newly identified drugs of abuse to controlled substances using PHASE
Accelerating Innovation in Manufacturing Technology for Biomanufactured Products: Manufacturing U.S. and NIST
On the 'Cyber-Securability' of Medical Devices
Please visit the FDA Science Forum website to view the full agenda and register.