Virtual Event
7th Annual Intelligence Community Academic Research Program
September 29, 2021 @ 12:00 pm

-

3:30 pm

EDT

Virtual Event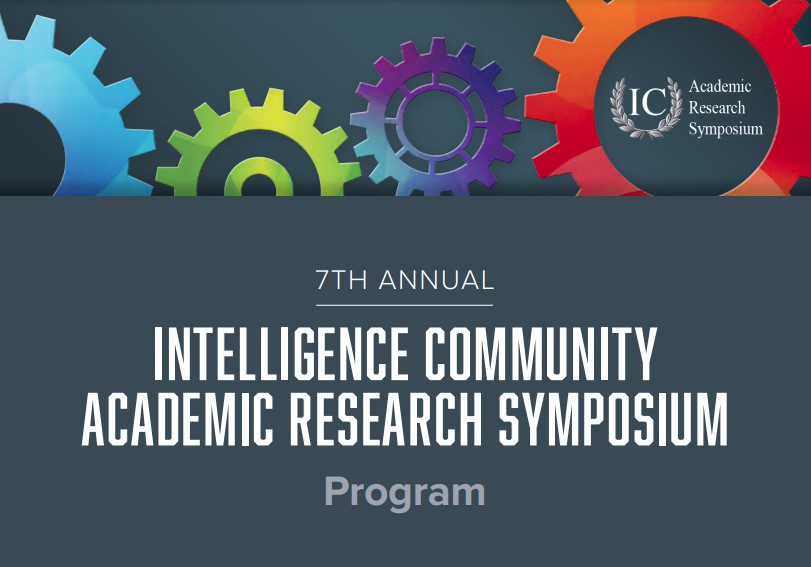 The Intelligence Community Academic Research Symposium (ICARS) is the showcase for unclassified academic research supported by the Intelligence Community.
This event provides the opportunity for academic researchers, advisors, and members of the IC to exchange ideas and engage with fellow experts from diverse scientific backgrounds. Through integration and cooperation, the IC Academic Research Symposium encourages innovation and collaboration between academia and the Intelligence Community.
This year's participants and sponsors include:
Air Force Institute of Technology
FBI visiting scientist program
IC Postdoctoral Research Fellowship Program
National Intelligence University
NGA Academic Research Program
The Program on Extremism at George Washington University
The Cybersecurity Manufacturing Innovation Institute
UK IC Postdoctoral Research Fellowship Programme
UTSA's National Security Collaboration Center
Highlighted presentations include:
Multiplex Aptamer Biosensors for the Standoff Detection of Nerve Agents
Metapopulation Dynamics of Outbreaks and their Management
Improving the Prediction of Hazardous Material Dispersion in an Urban Environment
Forecasting Dengue in Brazil at High Resolution
Learning about the Geospatial Spread of Pathogens from their Genomes
Development of a Machine Learning Model to Predict Causes of Encephalitis
Uranium Isoscapes in Natural Waters: Factors Associated with Uranium Concentrations above 30 μg/Liter?
Attribution of Explosives and Explosive Precursors
Early Detection of Chemical-Induced Temporal Stress Signatures in GMO and Non-GMO Maize
Identification of Illegal Manufacturing Activity via Wastewater Markers
Benchmark Data Development to Classify Damage for Natural Disaster Relief Efforts
Next Generation Cybersecure Architectures Enable U.S. Manufacturing Innovation, Resilience, and Productivity
DeePRK – Measuring Human Performance of DNN-Assisted Object Search and Detection over North Korea
Adaptive Infrared Thermal Signature Management
Building an Urban Digital Twin: A Research Agenda
Semantic Representations for Multi-Viewpoint Multimodal Geolocation
Localization and Planning for a UAV/Robot Team in Subterranean Environments
Gravity Portals: Quantum Sensors for Enhanced Border Screening
Leveraging Environment and Culture to Anticipate Social Unrest with Integrated Model- and Data-Driven Approaches
Optomechanical Sensing: Why So Sensitive?
The Impact of Explanations as Communicative Acts on Belief in a Claim: The Role of Source Reliability
KEYNOTE SPEAKERS
Catherine Marsh, Ph.D. / Director, Intelligence Advanced Research Projects Activity (IARPA)
Dr. Catherine Marsh became director of the Intelligence Advanced Research Projects Activity in November 2019 where she is responsible for investing in high-risk/high-payoff research that has the potential to provide our nation with an overwhelming intelligence advantage. Prior to this assignment, Dr. Marsh was the chief scientist for the CIA's Directorate of Science and Technology from 2016-2019, where she was responsible for ensuring that leading-edge science and technology underlies current and future mission capabilities. Before that, she served as the dean of the DS&T's George Methlie School. Her first assignment at IARPA was from 2013-2015 as the deputy
director. Dr. Marsh joined the CIA in 2001 and served in serval capacitates to innovate power solutions for the intelligence community. While in industry, she led the team that put lithium-ion technology on numerous platforms, including NASA's MARS exploration rovers Spirit and Opportunity. Dr. Marsh is a director of the National Intelligence Fellow and member of the DS&T's distinguished expert cadre. She holds a bachelor's and doctorate in inorganic and analytic
chemistry from Brown University
LTC Thomas Pike, Ph.D. / National Intelligence University, IC Educator of the Year Awardee
LTC Tom Pike is faculty at the National Intelligence University and Technical Director of the Center for Anticipatory Intelligence and Adaptive Influence. He earned his PhD in Computational Social Science from George Mason University. His primary research interest is the collective intelligence of complex systems at the organizational and societal level. He has done research on multi-leveled networks and civil conflict.
Brian T. Holmes, Ph.D. / Dean, National Intelligence University School of Science and Technology Intelligence
Dr. Holmes is the Dean of the School of Science and Technology Intelligence at the National Intelligence University in Bethesda, MD. The School is the focus for science and technical analytic education, research and external engagement across the intelligence and national security communities. He joined the University in 2012 to complement the existing members of the School and enable its burgeoning mission. The National Intelligence University was chartered by the Department of Defense in 1962, and the University's degrees — the Master of Science of Strategic Intelligence, the Master of Science and Technology Intelligence, and the Bachelor of Science in Intelligence — are authorized by Congress. The University is managed by the Defense Intelligence Agency (DIA), and receives strategic guidance from the Director of National Intelligence (DNI). From 2012-2016, Dr. Holmes chaired the Emerging and Disruptive Technology, Geostrategic Resources and Environment, and Weapons of Mass Destruction concentrations in the School. He serves as an executive representative to the Scientific and Technical Intelligence Committee under the auspices of the National Intelligence Council, and directly supports Intelligence Community Directive 204 (National Intelligence Priorities Framework). He primarily focuses his research on dual use technologies, and the translation of emerging research and development into advanced materials for military systems. From 2016-2017, Dr. Holmes served as the Associate Dean of the School of Science and Technology Intelligence.