Hybrid Event
BARDA Industry Day – BID2023
November 13

-

November 14

Hybrid Event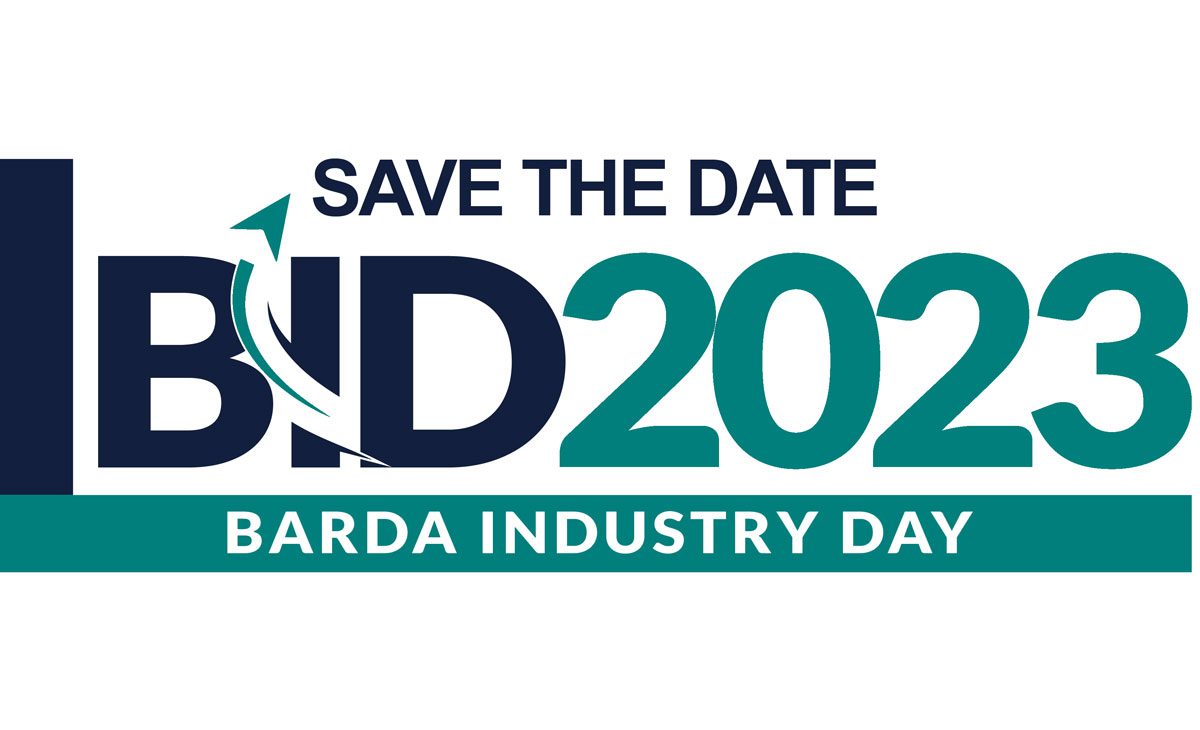 The annual BARDA Industry Day (BID) conference will be held 13-14 November 2023 in Washington DC and via virtual participation.
BID2023: Driving Innovation for Preparedness & Response will feature presentations from BARDA leadership, U.S. government partners, and industry on medical countermeasure (MCM) priorities and public health innovation. Attendees will also have an informal opportunity to interact with BARDA and ASPR teams and identify areas of potential collaboration in the field of MCM research and development.
The event lineup will have an assortment of BARDA program briefings, guest speakers, networking opportunities, and specialized breakout sessions. Content will focus on BARDA's efforts to collaborate across government and industry to continually innovate MCMs to address current and future health security threats.
BARDA's Influenza and Emerging Infectious Diseases Division (IEIDD) will give a broad ranging presentation on BARDA's strategy for vaccine development through licensure including harmonized clinical trials, centralized immune endpoint assays, determination of correlates of protection, lessons learned from the COVID-19 vaccine portfolio, and assay-generated data for accelerated decision making.
BARDA's Division of Chemical, Biological, Radiological, And Nuclear (CBRN) Countermeasures will provide an overview of its strategic priorities for branch and division level efforts. Among these priorities include CBRN's plans to expand the nation's capabilities to respond to any CBRN health security incident, whether naturally occurring or intentional. Following the presentations, a moderated Q&A panel will provide a deeper dive into how division-level priorities can shape medical countermeasure development going forward.
BARDA program representatives, industry partners, and developers will provide an overview of animal models developed in laboratories of network performers funded through the Biological, Chemical, and Radiological Indefinite Delivery/Indefinite Quantity (ID/IQ) contract. In addition, selected product developers funded by BARDA's nonclinical network will share information on the use of animal models in efforts to license products for use against biodefense threats.
BARDA's Biopharmaceutical Manufacturing Preparedness (BioMaP) program has a three-pronged approach to address key vaccine manufacturing gaps to bring the nation up to the speed and scale required for future public health emergencies. In this session, the BioMaP team will discuss these three components: the BioMaP-Consortium, the Exercise (BioMaP-X), and the BioMaP Workforce Development (BioMaP-W). Join BARDA's Pharmaceutical Countermeasures Infrastructure Division (PCI) to learn about these different aspects of the BioMaP program.
Speakers from the U.S. Food and Drug Administration's (FDA) Medical Countermeasures Initiative will also address the coordination of emergency activities involving products regulated by the FDA's Center for Drug Evaluation and Research (CDER), Center for Biologics Evaluation and Research (CBER), and Center for Devices and Radiological Health (CDRH).
The Division of Chemical, Biological, Radiological and Nuclear (CBRN), Division of Research, Innovation and Ventures (DRIVe), and Division of Nonclinical Development (DNCD) will discuss microphysiological systems (MPS)/organ chips and how it aligns with BARDA's portfolio.
Learn more about BARDA Ventures – Global Health Investment Corporation (GHIC) partnership and join a discussion with GHIC on investment focus, priorities, and the landscape of venture investment in global health security. In addition, learn more about the case study with Cytovale and Endpoint Health demonstrating how BARDA Ventures complements BARDA's other investment vehicles to support MCM development and commercialization.
A session on host-based diagnostics in sepsis will illuminate the strategic value of Host-Based Diagnostics (HBDs) in the infectious disease space and how to build a community around demonstrating the clinical utility of HBDs and streamlining their adoption and integration into practice.
Uncover BARDA's latest initiative in clinical trial innovation pertaining to decentralized trials – the Decentralized Clinical Operations for Healthcare and Research (D-COHRe) strategic partnership. Topics include information on D-COHRe and BARDA's fundamental interagency work towards advancing pandemic preparedness.
Please visit Medicalcountermeasures.gov to register.