Virtual Event
Best Practices: Modeling Approaches to Support Generic Product Development
October 27, 2022

-

October 28, 2022

Virtual Event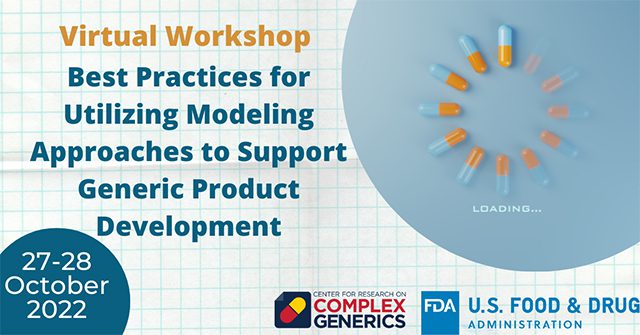 FDA and the Center for Research on Complex Generics (CRCG) will host a free public workshop on October 27-28, 2022: Best Practices for Utilizing Modeling Approaches to Support Generic Product Development
The purpose of this two-day workshop is to discuss and illustrate how generic product developers can utilize modeling approaches in conjunction with in vitro data and other knowledge to support the development of complex generics that may otherwise rely upon challenging in vivo studies to demonstrate bioequivalence.
This workshop will engage experts from regulatory agencies, the generic drug industry, consultants, academia, and others in the field of modeling and simulation to discuss the opportunities and best practices for incorporating modeling and simulation approaches into generic drug development programs and regulatory submissions. The workshop will also identify commonalities in methodologies/workflows or in silico models supporting alternative BE approaches and clarify how a model master file may be leveraged to advance drug product development, facilitate regulatory assessment, and streamline drug product approval.
FDA and the CRCG—which is a collaboration between the University of Maryland School of Pharmacy and the University of Michigan College of Pharmacy—are dedicated to advancing programs that stimulate scientific dialogue, disseminate current insights about complex generics, and generate new knowledge in support of FDA's mission to promote and protect the public health by increasing access to safe and effective generic medicines.
Highlighted topics include:
Use of model integrated evidence to support demonstrations of BE in a regulatory context
Use of the same or similar model or modeling strategy across multiple submissions related to complex drug products
Mechanistic modeling approaches supporting BE assessments for oral drug products
Applications of quantitative comparative approaches to support the development of complex generic drug products
Case examples supporting the recently introduced concept of "model master files"
Please visit the FDA's Best Practices for Utilizing Modeling Approaches to Support Generic Product Development meeting page for information on registration.