CBRNe Summit Europe 2019
April 9, 2019

-

April 11, 2019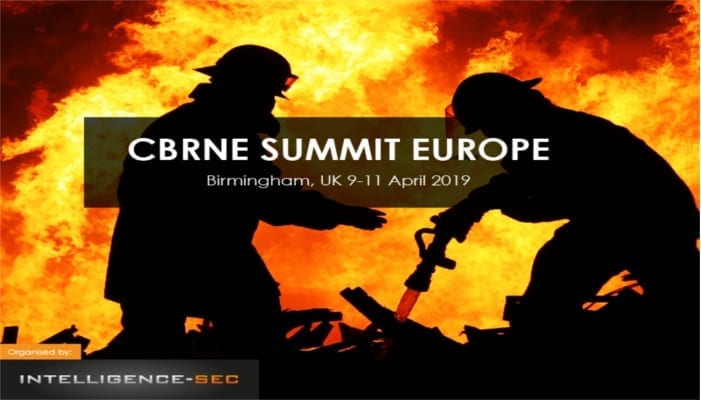 Intelligence Sec's annual CBRNe Summit Europe 2019 will be held 9-11 April 2019 in Birmingham, UK.
CBRNe threats are becoming a more regular occurrence in major cities across Europe. Many civil and military agencies are now having to improve their response times to major incidents and know on the scene how to quickly resolve the situation.
CBRNe Summit Europe 2019 will bring together key officials to CBRN capabilities and international cooperation, the use of robotics within a hotzone, medical countermeasures to chem-bio attacks, and first responder techniques, tactics and procedures.
Highlighted speakers include:
Colonel Carlos Ardanaz, Commander, CBRN Regiment, Spanish Army
Eric Damiens, Vice President, Sales and Marketing, Proengin
Dr. Laura Cochrane, Director, Medical and Clinical Affairs, Emergent BioSolutions
Dr. Pat Mullan, Principal Scientist, CBR Division , DSTL
Dr. Huw Loaring, Regional Sales Director Europe and Africa, Detection, FLIR Systems
Captain Bobby Baker, WMD/HAZMAT Coordinator, Dallas Fire Rescue
Colonel Wolfgang Reich, Deputy Director, NATO Joint CBRN Defence Centre of Excellence
Colonel Denis Josse, Adviser on CBRN Risks Management & Head of the Pharmaceutical Services, Alpes-Maritimes Fire and Rescue Services, France
Lyudmila G. Simeonova, Head of CBRN Department, Fire Safety and Civil Protection Chief Directorate, Ministry of Interior, Bulgaria
Allan Cordwell, Head of Group Emergency Planning, Resilience & Response Unit, The Northern Care Alliance NHS Group, United Kingdom
Lieutenant Colonel Ladislava Navratilova, Scientist and Chemical Expert, Fire Rescue Service, Ministry of Interior, Czech Republic
Lieutenant Colonel Andrea Dainese, Course Director, Protection Department, NATO School
Christian Cooper, Compliance Officer, National Ambulance Resilience Unit (NARU), United Kingdom
Professor Robert Chilcott, Head of Toxicology, University of Hertfordshire, United Kingdom
Jon Hall, Director, Resilience Advisors
Jaroslav Krasny, Researcher, Graduate School for International Development and Cooperation, Hiroshima University, Japan
Please visit the CBRNe Summit Europe 2019 website for more information and to register or contact Intelligence Sec events@intelligence-sec.com or by phone +44 (0)1582 346 706 and we will be happy to provide you further information on how you can participate either as a speaker, sponsor/exhibitor or as delegates.
Global Biodefense is an official media partner of CBRNe Summit Europe 2019.