National Infant Immunization Week – NIIW 2019
April 27, 2019

-

May 4, 2019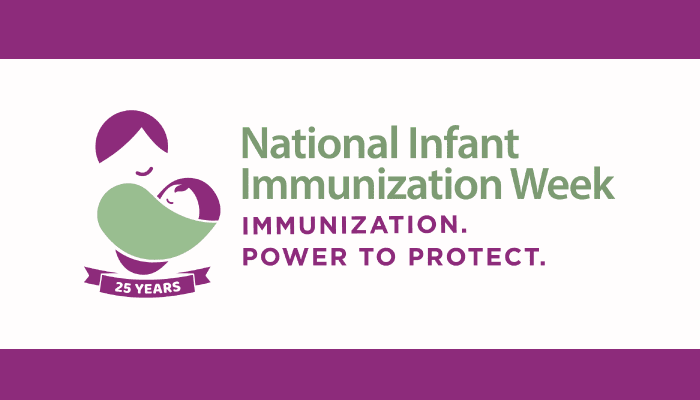 This year's annual observation of National Infant Immunization Week is April 27-May 4, 2019.
NIIW highlights the importance of protecting infants from vaccine-preventable diseases and to celebrate the achievements of immunization programs and their partners in promoting healthy communities.
This is the 25th anniversary of NIIW. Since 1994, hundreds of communities across the United States have joined to celebrate the critical role vaccination plays in protecting our children, communities, and public health.
Several important milestones in controlling vaccine-preventable diseases among infants worldwide worldwide have already been reached:
Vaccines have drastically reduced infant death and disability caused by preventable diseases in the U.S.
Through immunization, we can now protect infants and children from 14 vaccine-preventable diseases before age two
Routine childhood immunization in one birth cohort prevents an estimated 381 million illnesses, 24.5 million hospitalizations, and 855,000 early deaths over the course of their lifetimes, at a net savings of $360 billion in direct costs and $1.65 trillion in total societal costs
The National Immunization Survey has consistently shown that childhood immunization rates for vaccines routinely recommended for children remain at or near record levels
One example of the seriousness of vaccine preventable diseases is an increase in measles cases and outbreaks in the United States in recent years.
NIIW provides an opportunity to:
Highlight the dangers of vaccine-preventable diseases, especially to infants and young children, and the importance and benefits of childhood immunization
Educate parents and caregivers about the importance of vaccination in protecting their children from birth against vaccine-preventable diseases
Focus attention on immunization achievements and celebrate the accomplishments made possible through successful collaboration
Step up efforts to protect children against vaccine-preventable diseases and thereby give them a healthy start in life
Encourage better communication between parents and healthcare professionals.
Remind parents and caregivers of the importance of making and keeping needed immunization appointments.
Provide help to parents and caregivers to locate a healthcare professional who participates in the Vaccines for Children's program, a federally funded program that provides vaccinations at no cost to children whose parents cannot afford to pay for them.
NIIW is celebrated as part of World Immunization Week (WIW), an initiative of the World Health Organization (WHO). During WIW, all six WHO regions, including more than 180 Member States, territories, and areas, will simultaneously promote immunization, advance equity in the use of vaccines and universal access to vaccination services, and enable cooperation on cross-border immunization activities.