Virtual Event
The Future of Global Health Security
October 13, 2021 @ 5:30 pm

-

6:30 pm

EDT

Virtual Event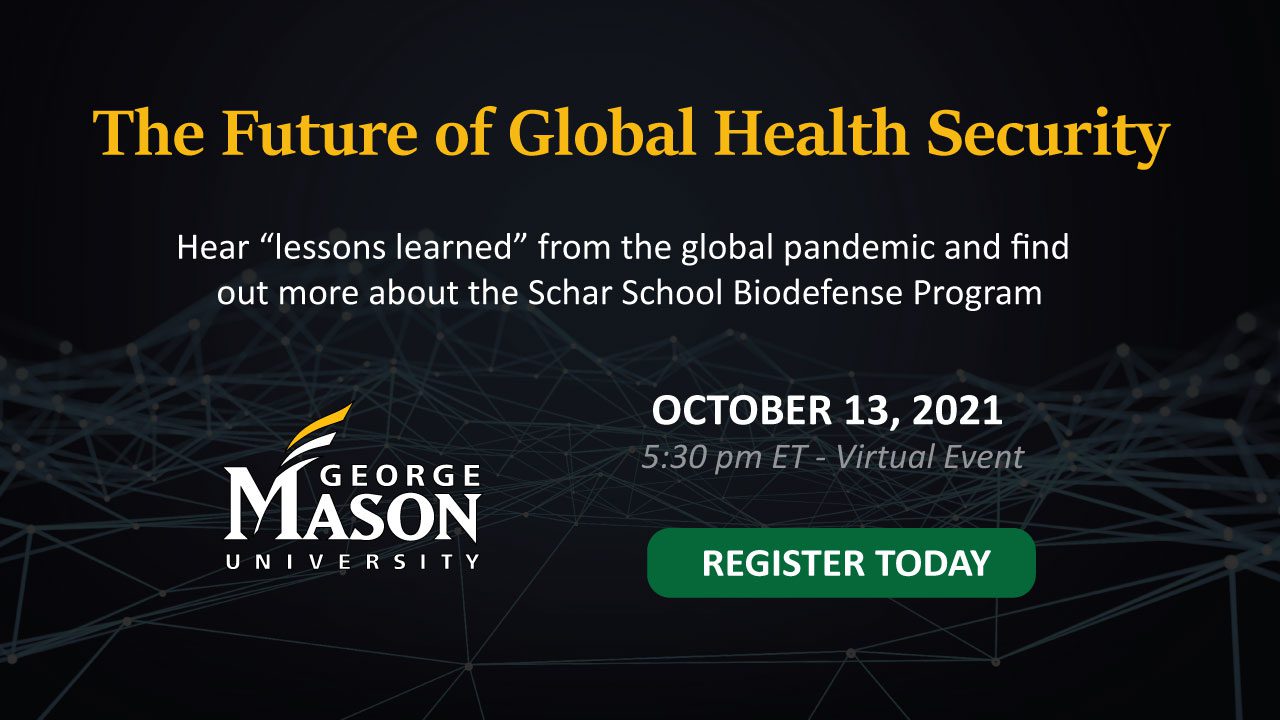 Join faculty members from the Schar School's Biodefense master's program in a discussion on the future of global health security considering lessons learned from the COVID-19 pandemic.
Policy Exchange: The Future of Global Health Security will take place Wednesday, October 13, 2021 at 5:30 p.m. ET in a virtual format. This event highlights faculty from GMU Schar School's Master's in Biodefense program, but all prospective students are invited to attend.
The COVID-19 pandemic revealed unexpected weaknesses in our preparedness for pandemic threats, and it continues to pose serious challenges around the world. How are health authorities in the United States and around the world trying to reduce these vulnerabilities so we are better equipped for the next pandemic?
ABOUT THE PANEL
Adjunct Professor Ashley Grant, a lead biotechnologist at the MITRE Corporation, previously served as the senior biological scientist at the Government Accountability Office where she led government-wide technical performance audits focused on biosafety and biosecurity issues. She was an American Association for the Advancement of Science (AAAS) Science and Technology Fellow in the Chemical and Biological Defense Program Office in the Department of Defense and worked at the National Academies of Science on the Committee on International Security and Arms Control.
Adjunct Professor Andrew Kilianski is the chief intelligence officer for the Department of Defense's Joint Program Executive Office for Chemical, Biological, Radiological and Nuclear Defense (JPEO-CBRND). His work focuses on combating weapons of mass destruction and infectious diseases, counterintelligence threats to the DoD's Chemical and Biological Defense Program, and emerging threat characterization and assessment. Previously, he served as the CBRN Defense Team Lead at the Defense Intelligence Agency – National Center for Medical Intelligence where he led a team of analysts covering worldwide WMD and medical science and technology developments.
Term Assistant Professor Saskia Popescu recently created and disseminated a gap analysis for a six-hospital system to establish vulnerabilities for high-consequence diseases, helping to guide the creation of a high-consequence disease initiative to enhance readiness at the health care level. This work aided in rapid and coordinated responses to COVID-19. Popescu is certified in infection prevention (CIC), hospital preparedness through FEMA's NIMS, and pandemic preparedness from the DHS Center for Domestic Preparedness. She currently serves as a member of the Federation of American Scientists (FAS) Coronavirus Taskforce and is a member of the Committee on Data Needs to Monitor Evolution of SARS-CoV-2 within the Health and Medicine Division of the National Academies of Sciences, Engineering, and Medicine (NASEM).
Please visit the Schar School's Policy Exchange: The Future of Global Health Security page for more information.