Government Biotechnology Innovation Summit
September 27

-

September 28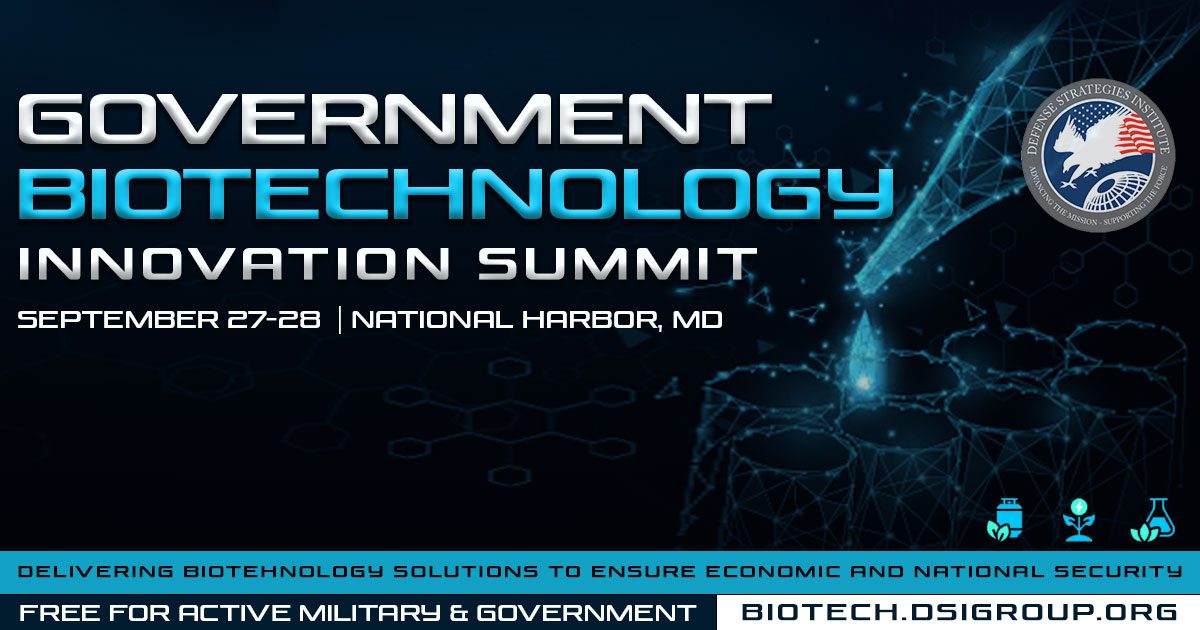 Join government leaders at the forefront on how biotechnology is transforming the economic, agricultural, healthcare and security landscape of the U.S.
The 2023 Government Biotechnology Innovation Summit will be held 27-28 September 2023 in the DC Capitol Region.
Be part of the discussion of the advancement of innovative biotechnology and biomanufacturing solutions across agencies and sectors as a means of furthering and securing U.S. National Interests.
In September 2022, the White House announced an Executive Order launching a National Biotechnology and Bio-manufacturing Initiative with a $2 billion funding plan to further drive a national strategy for expanding the domestic bioeconomy and biomanufacturing capacity.
The Government Biotechnology Innovation Summit will offer a forum for leaders to discuss how the government employs biotechnology for national security purposes, including biodefense initiatives, surveillance of infectious diseases, and the prevention and response to biological threats.
Highlighted speakers include:
Renee Wegrzyn, PhD – Director, Advanced Research Projects Agency for Health (ARPA-H)
Kerri Dugan, PhD – Director, Biological Technologies Office, Defense Advanced Research Projects Agency (DARPA)
Peter Marks, MD, PhD – Director, Center for Biologics Evaluation and Research, Food and Drug Administration (FDA)
Deirdra Chester, PhD – Director, Office of the Chief Scientist, US Department of Agriculture (USDA)
Cari Young, ScM – Acting Division Director, Biosafety, Biosecurity, and Emerging Biotechnology, National Institutes of Health (NIH)
Simon Malcomber, PhD – Deputy Assistant Director, Directorate for Biological Sciences, National Science Foundation (NSF)
The Summit will also explore investing in research and development, establishing regulations and guidelines, and collaborating with academia and industry to harness the potential of biotechnology for the benefit of society as a whole. By harnessing the power of biotechnology through cooperation, the government can improve public health outcomes through advanced diagnostics, therapies, and personalized medicine. Biotech innovations can also revolutionize sustainable agriculture by increasing crop yields, developing drought and pest-resistant varieties, and reducing environmental impact.
Please visit DSI's Government Biotechnology Innovation Summit to register to attend.
Defense Strategies Institute is an official partner of Global Biodefense