IMED 2016 – Emerging Diseases and Surveillance
November 4, 2016

-

November 7, 2016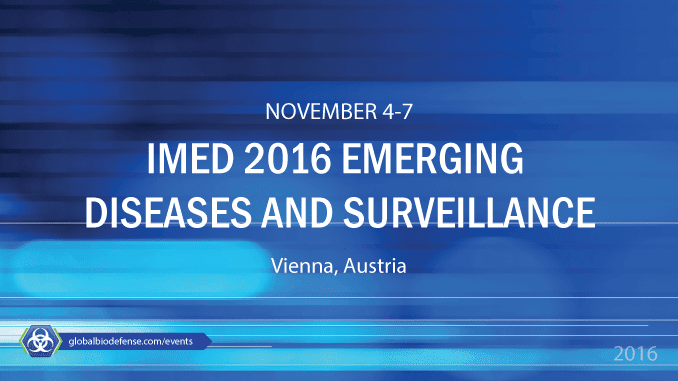 The IMED 2016 International Meeting on Emerging Diseases and Surveillance will be held November 4-7, 2016 in Vienna, Austria.
IMED draws leading scientists, clinicians and policy makers to Vienna to present new knowledge and breakthroughs and discuss how to discover, detect, understand, prevent and respond to outbreaks of emerging pathogens.
Highlighted topics include:
Emerging infectious diseases in humans and animals
Global migration, refugee and immigrant health
Laboratory biosafety and agents of bioterrorism/biological warfare
Technology, big data and disease surveillance
Ebola, Zika and beyond
Antimicrobial resistance
Drivers of emerging diseases
Human-animal interface, ecosystems and environment
Prevention of and response to emerging diseases and epidemics including vaccines
Advances in science and their applications: rapid and advanced diagnostics
Data sharing during outbreaks and beyond
Please visit the IMED 2016 website for more information and registration.