Virtual Event
Pediatric Countermeasures: Children's National – NIAID Partnership Virtual Symposium
September 29, 2020 @ 9:00 am

-

4:30 pm

EDT

Virtual Event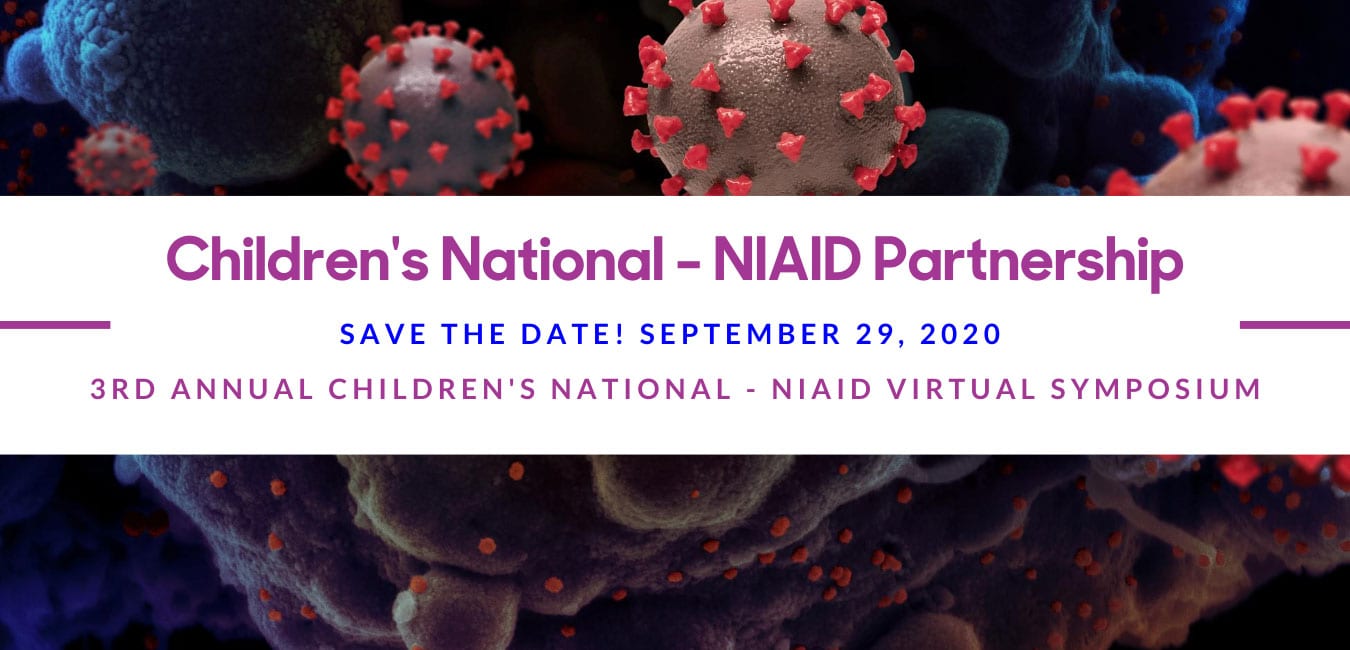 A virtual symposium highlighting pediatric COVID-19 and MIS-C pandemic efforts undertaken by the NIAID-Children's Hospital partnership will take place virtually on 29 September, 2020.
This one day symposium bringing together investigators, researchers, and clinicians from the National Institute of Allergy and Infectious Diseases (NIAID) and Children's National Hospital as well as other interested participants from outside institutions, to discuss the creation, progress, and evolution of this first-of-its-kind collaboration between the NIAID at the National Institutes of Health and Children's National, a pediatric academic medical center.
This year, the event will highlight the current COVID-19 and MIS-C pandemic, with a specific focus on the pediatric population.
Highlighted speakers and topics include:
Overview of SARS-CoV-2: Anthony S. Fauci, MD (NIAID)
Role of NCATS in the the SARS-CoV-2 Response: Christopher P. Austin, MD (NCATS)
Humoral Immune Response: Jeffrey I. Cohen, MD (NIAID)
Cellular Response (T and NK Cells): Michael Keller, MD (Children's National)
Immunopathogenesis of MIS-C: Sarah E. Henrickson, MD, PhD (CHOP)
Genomic Factors in SARS-CoV-2: Helen Su, MD, PhD (NIAID)
Health Disparities and SARS-CoV-2: Akilah Jefferson Shah, MD, MSc (UAMS)
Clinical Spectrum of SARS-CoV-2, Implication for Schools Reopening: Dan M. Cooper, M.D. (UC Irvine)
MIS-C and Post SARS-CoV-2 Monitoring in Children: Roberta DeBiasi, MD, MS (Children's National)
Post SARS-CoV-2 Monitoring in Adults: Michael C. Sneller, MD (NIAID)
Overview of Vaccine Candidates: Peter Hotez, MD, PhD (Baylor)
Current State of Vaccine Clinical Trials: Julie Ledgerwood, DO (NIAID)
Ongoing Therapeutic Trials and Treatment Guidelines: Cliff Lane, M.D. (NIAID)
SARS-CoV-2 What Comes Next – Societal/Economic Impact: Ezekiel Emanuel, MD, PhD (UPenn)
In 2017, The National Institute of Allergy and Infectious Diseases (NIAID) and Children's National Hospital launched a clinical research partnership devoted to protecting and advancing the health of children with allergic, immunologic, auto-inflammatory, and infectious disease through collaborative research and education. This strategic and novel alliance is supported through the Clinical and Translational Science Institute at Children's National (CTSI-CN). The partnership, co-led by H. Clifford Lane, M.D., Deputy Director for Clinical Research and Special Projects at NIAID, and Mark Batshaw, M.D., Executive Vice President and Chief Academic Officer at Children's National, holds the mission to generate and apply knowledge to promote the prevention, diagnosis, treatment, and cure of these childhood diseases through its work together.
For each area, designated investigators from each institution are collaborating to design and conduct clinical research studies that will advance prevention strategies, diagnoses, treatments, and cures for the diverse range of pediatric diseases involving the immune system. Many of these studies will include children at high risk for complications related to their underlying disease or to experimental therapeutics and diagnostic tests they receive. Research participants will have the opportunity to be seen at both Children's National and the NIH Clinical Center in Bethesda, Maryland. Together, the two institutions provide comprehensive, state-of-the-art pediatric clinical support, infrastructure, and research capacity. These resources protect the safety of children, ensure that they receive the highest quality of care, and offer them the opportunity to participate in cutting-edge clinical research. In addition, the partnership established joint training opportunities for physician-scientists interested in caring for these children while developing their research expertise in pediatric immunology, allergic, and infectious diseases.
The collaboration is supported through an NIAID supplement to the Clinical and Translational Science Institute at Children's National, which is funded by a Clinical and Translational Science Award from NIH's National Center for Advancing Translational Sciences to Children's National Hospital and The George Washington University.