Virtual Event
Review of Third-Party Research Risk: Is There a Role for IRBs?
September 24, 2021 @ 9:45 am

-

4:00 pm

EDT

Virtual Event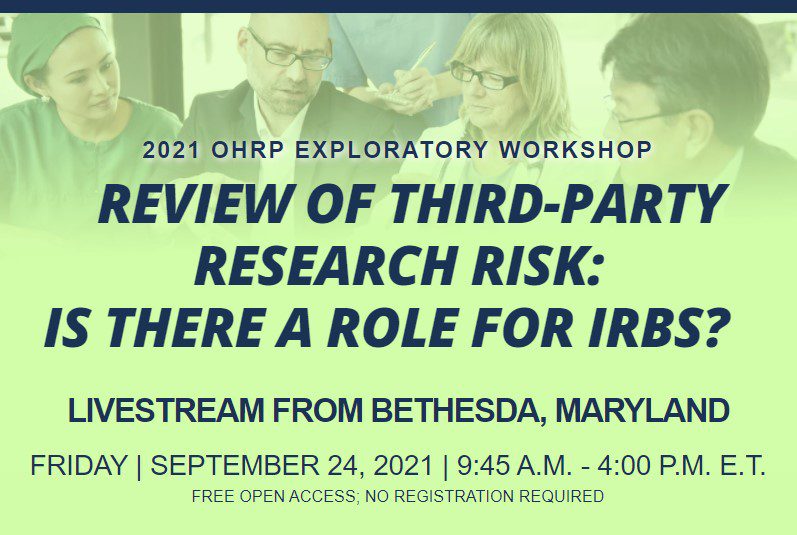 "Review of Third-Party Research Risk: Is There a Role for IRBs?," an HHS Office for Human Research Protections (OHRP) Exploratory workshop, will be livecast on 24 September 2021.
The research community has generally focused on the protection of human research subjects as defined by the
Common Rule. However, sometimes the conduct of research can have an impact on people who are third parties
and who do not meet the definition of human subjects. This meeting will explore who some of the impacted parties are and what types of risks they might face in various types of research. It will further explore the idea of expanding regulatory protections to cover third parties in some circumstances. Panelists will discuss whether and what support for this idea already exists in the field of research ethics and whether institutional review boards (IRBs) have a role to play in oversight of such protections should they be warranted.
Highlighted sessions include:
Panelists will consider whether researchers and the research community have a responsibility to protect third parties and if so, in what capacity.
Research Studies That Do Not Directly Involve Human Subjects
Third-Party Risk in Clinical Research Trials
Ensuring Privacy, Building Trust: Collecting, Processing, and Sharing Third-Party Information in Social
and Behavioral Health Research
Ethical Considerations for Third-Party Risk in Research
Limiting Non-Consenting Third Parties to Reasonable Research Risks
Public Risk Perception and the Creation of Clear Communications
Reviewing Third-Party Risks: A Proposed Framework for IRBs (and Researchers)
Are IRBs the Right Oversight Bodies for Protecting Third Parties?
Videos of each session will be available on the HHS OHRP website after the event. All Exploratory Workshop sessions meet the Certified IRB Professional (CIP) recertification guidelines exit disclaimer icon and are eligible for a maximum of 5 hours of credits.