SMi's 22nd Annual Superbugs & Superdrugs – Remote Access Conference
March 30, 2020

-

March 31, 2020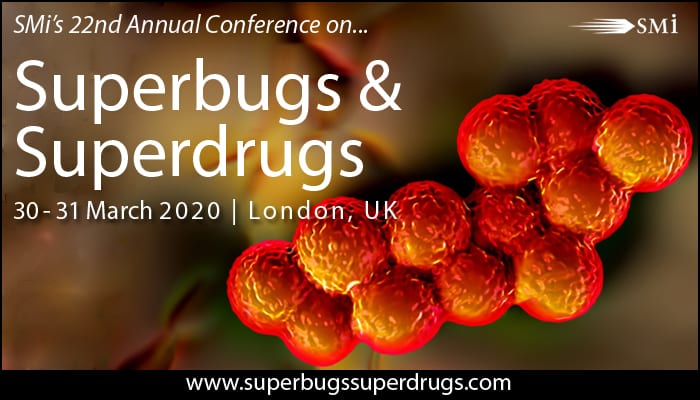 Due to ongoing concerns over COVID-19 this conference is now available with remote access only
SMi's 22nd Annual Superbugs & Superdrugs 2020 Conference will be held  30-31 March 2020.
A Focus on Non-traditional Approaches in the Fight against Antimicrobial Resistance
Sponsored by Scynexis
CO-CHAIRS FOR 2020: Cara Cassino, Chief Medical Officer, Contrafect & Michael Dawson, Director, Mike Dawson Antimicrobial Research Consultancy
As one of the most impactful pharmaceuticals for maintaining public health, antibiotics have been around since early 20th century and have since shown a need for significant progress in recent years. This is mainly due to its broad and indiscriminate use which has slowly given birth to multi- to extensively-drug resistant bacteria rendering our current last-resort antibiotic arsenal, including colistin, carbapenems, 3rd and 4th generation cephalosporins, useless.
This year's event aims to showcase a suite of sessions focused on novel drugs and approaches, particularly highlighting non-traditional and traditional therapies that provide an innovative means to spearhead the issue. The conference will also place significant emphasis on the much-needed support for innovative approaches such as sessions tackling the funding and support and the regulation that provides guidance towards the goal of ameliorating the continued rise of anti-microbial resistance AMR.
It is crucial to bring industry leaders together to discuss the strategies in place that reduce AMR, evaluate the role pharmaceutical companies and funding bodies play in reducing AMR, learn about new diagnostics approaches to identify AMR and consider novel candidates and alternatives to anti-microbials. Join us in March 2020, along with leaders from the pharmaceutical industry, academia, regulatory and funding bodies, and public-private partnerships to discuss the way forward.
Event Hashtag: #SMiBugs
FEATURED SPEAKERS FOR 2020:
Yuri Gleba, Professor, Founder, Nomad Bioscience
Mark Albrecht, Branch Chief, Antibacterials program, BARDA/HHS
Paul Finn, CEO, Oxford Drug Design
Cara Cassino, Chief Medical Officer, Contrafect
Martin Everett, CSO, Antabio
Samareh Lajaunias, Director, Combioxin SA
Francois Moreau, Scientific Director, Mutabilis
Emma Leire, Microbiology Lead, Centauri Therapeutics
Lorenzo Corsini, Co-Founder/CEO/R&D, Phagomed
Stephen Barat, VP, Preclinical Research and Early Development, Scynexis
Colm Leonard, Consultant Clinical Adviser/Consultant Thoracic Physician/Honorary Pro
WHATS ON THE AGENDA FOR 2020?
Discuss the new classes of non-antibiotic antibacterial proteins: Colicins and Colicin-like Bacteriocins from Nomad Bioscience
Gain valuable insight towards fighting severe and resistant infections through neutralising bacterial virulence effectors from Combioxin
Examine a UK project looking at novel value assessment and reimbursement for novel antimicrobials from NICE/Manchester University NHS Foundation Trust
Explore direct lytic agents (DLAs) and their potential as a successful disruptive anti-infective technology with Contrafect
Evaluate the utility of machine learning and AI in antibiotic drug discovery with Oxford Drug Design
Global Biodefense is an official media partner of Superbugs & Superdrugs 2020.