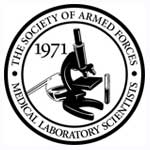 The largest annual gathering of military professionals working in laboratory science, policy and operations has convened this week in Memphis, Tennessee for the Society of Armed Forces Medical Laboratory Scientists (SAFMLS) 40th Annual Conference.
SAFMLS is a non-profit organization that was officially established in 1971 but with organizational roots dating back to 1958.
The organization works to enhance standards and training through improved laboratory policies and technology in support of the health care delivery systems of the Armed Forces, Public Health Services and Veterans Administration.  The annual conference has evolved over the years into the premiere meeting for those supporting military medicine and research in the unique operating environments of the Armed Forces.
Approximately 500 attendees and over 75 vendors will participate in the week-long meeting which includes professional development, information sharing, and presentation of annual awards for Outstanding Clinical Research Scientist, Best Clinical Poster, Best Lab Officer, and Distinguished Service. Presentation topics include:
Biodefense and Readiness
USAR Microbiologists on the Front Line of Biodefense and Health Care Support
Armed Services Blood Program Update
Overview of Zoonotic Infections
Imaging DNA for Comparative Genomic Analysis, Epidemiology and Genome Assembly
Automated SPE and Immunotyping with Capillary Electrophoresis
Emerging Infections
Lab Lessons Learned While Deployed to Afghanistan
Anaerobic Bacterial Antibiogram Development at Brooke Army Medical Center
Optimizing New Technologies for Sample Processing in Austere Environments
Next year the 41st Annual SAFMLS Conference and Exhibition will take place in St. Louis, Missouri 24-29 March 2013.