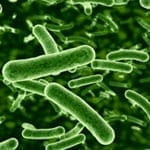 A highly virulent strain of E. coli caused the deadliest E. coli outbreak on record last year, leading to 54 deaths in Germany and sickening more than 3,800 people. Now a research team at Michigan State University has decoded the pathogen and is working on ways to curb the effects of the bacteria.
The E. coli O104:H4 strain shares some of the same characteristics as other deadly E. coli bacteria, but its combination is novel. The MSU team determined that a key process in the bacteria's effectiveness lies in its biofilm.
As a grouping of the bacteria stick to a cell's surface, they grow encased in a self-produced protective coat, or biofilm. Once this film forms, it begins to make more toxic genes like the Shiga toxin.  This increased production of toxic genes is the likely cause of the intensity of the deadly E. coli outbreak.
"What made the German outbreak so different is that many victims suffering from kidney failure were adults," said Shannon Manning, MSU Molecular Biologist and Epidemiologist. "Rather than attacking adults, other types of E. coli that produce Shiga toxins typically damage kidneys of children under 10." (MSU News)
The researchers also discovered that the H4 strain needs a lengthier period of time to form this toxic-producing biofilm, helping to explain the considerably longer incubation time seen among individuals infected with the German outbreak strain compared to individuals infected with other types of E. coli.
The team will next apply this knowledge towards mitigating the effects of the strain. "Our research demonstrates that biofilm formation is critical for toxin production and kidney damage," said Manning. "If we can block the bacteria from forming a stable biofilm, then it is likely that we can prevent future E. coli O104:H4 infections."
Chris Waters, MSU assistant professor of microbiology and molecular genetics, and scientists from the University of Michigan and the Michigan Department of Community Health contributed to the research.