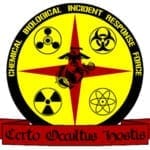 The U.S. Marine Chemical, Biological Incident Response Force (CBIRF) is working to decontaminate, treat and evacuate displaced civilians after a "CBRNE Event" during Vibrant Response 13, a major training exercise conducted by U.S. Northern Command from July 29 to August 13.
Approximately 5,000 service members and civilians will participate in the Defense Chemical, Biological, Radiological and Nuclear Response Force phase of the Vibrant Response training exercise.
The CBIRF team is demonstrating its interoperability with civilian first responders as part of their role in Joint Task Force Civil Support (JTF-CS), which is responsible for aiding local, state and federal authorities in the event of a natural or man-made disaster. Together, the mission is to coordinate lifesaving operations, provide logistics support, and perform technical CBRN consequence management tasks.
"We've conducted training with police, fire departments and pretty much every kind of local or state agency," said Capt. Adam Birchenough, a CBIRF Senior Incident Response Force Commander. "This exercise is different, because we also get the opportunity to work with other military branches."
Read more about the CBIRF role in the exercise at DVIDS.