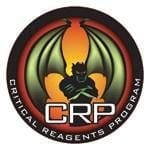 The Department of Defense Critical Reagents Program (CRP) has issued a Request for Information (RFI) seeking companies qualified to support the manufacture, storage, and distribution of high priority reagents and biological sampling kits.
The CRP's mission is to serve as the principle resource of high quality, validated, and standardized biological detection assays and reagents that meet the requirements of the military and biological defense community by facilitating the transition of new technologies and coordinating their advanced development, efficient production and timely distribution.
These critical reagents include antibodies, inactivated antigens, genomic materials, electrochemiluminescence (ECL) assays, polymerase chain reaction (PCR) assays, lateral flow immunoassays (LFI), and biological sampling kits used for the detection of Category A and B biological warfare agents. Target pathogens include C. botulinum, B. anthracis, Burkholderia, Brucella, F. tularensis, and Y. pestis.
In addition to providing reagents for assay development and validation research, CRP supports the manufacture, storage and distribution of consumable reagents and end items for the Joint Biological Point Detection System (JBPDS) and the Joint Portal Shield (JPS) System, as well as other Hand Held Assays (HHA) and sampling kits used for domestic preparedness, Homeland Defense, and counter-terrorist operations.
The Government is interested in receiving information from qualified companies in the following areas:
-Immunoassay and reagent evaluation and testing
-Product stability and accelerated shelf life testing
-Immunoassay and reagent evaluation and testing (environmentally controlled; BSL 2)
-Verification testing on lateral flow immunoassays (LFI) including but not limited to sensitivity, false positive reactions, dose response curves, cross-reactivity to near neighbors/battlefield interferents, and physical specification inspection
-Verification testing on Electrochemiluminescence (ECL) assays including, but not limited to, signal to noise ratio, sensitivity, and false positive ration
-Verification testing on ECL system reagents including but not limited to pH, appearance, surfactant concentration, physical inspection, conductivity, and hypochlorite testing
-Testing on ECL positive controls to verify controls perform within acceptable ranges based on conformance criteria
This is a Request for Information (RFI) for planning purposes only. The Government solicitation, planned for release in 2013, will have an estimated dollar value of no more than $2M over a two-year period.
Full details are available under Solicitation Number: W911QY-12-S-0010. The response deadline is September 10, 2012.