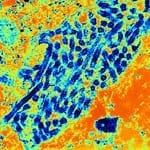 Sarepta Therapeutics – formerly known as AVI BioPharma – has demonstrated unprecedented achievement for their lead therapeutic drug candidate for the Marburg virus, AVI-7288. The effort is funded by the Department of Defense's (DoD) Joint Program Executive Office for Chemical and Biological Defense, Joint Project Manager Transformational Medical Technologies (JPM-TMT).
The candidate demonstrated significant survival rates between 83% and 100% in a non-human primate study exploring the drug's effect when treatment is delayed for up to several days post-infection. The placebo-treated control group had a 0% survival rate.
"Showing efficacy when used up to four days post infection is a very significant step in the development of the Marburg drug candidate," noted David E. Hough, Joint Project Manager for JPM-TMT. "Our goal is to protect the Warfighter and the nation from naturally occurring or weaponized viruses and this new development means that we may soon be able to offer treatments for a lethal and fast-acting virus even days after the suspected exposure."
Marburg virus is a considered Biosafety Level 4 (BSL 4) priority pathogen, requiring the highest level of containment. Sarepta is working with scientists at the U.S. Army Medical Research Institute of Infectious Diseases (USAMRIID) to conduct the studies, which will now monitor the subject non-human primates off-treatment through day 40 to analyze additional indicators such as liver enzymes and renal markers.
Through its Hemorrhagic Fever Virus-Therapeutics Medical Countermeasures acquisition program (HFV-Tx MCM), JPM-TMT is targeting Marburg as a model for testing the development of rapidly adaptable platform-based, post-exposure therapeutics for other hemorrhagic fever viruses.
While the success of the Marburg project at Sarepta is significant, recently imposed budget constraints prompted the DoD to issue a stop-work order to the company on August 2, 2012 with respect to the Ebola portion of their contract for Advanced Development of Hemorrhagic Fever Virus Therapeutics.
The stop-work order does not apply to the Marburg effort funded under the same contract. The stop-work order will remain in effect until September 1, 2012, and prior to that time the DoD will either: (1) terminate the Ebola portion of the contract; (2) cancel the stop-work order; or (3) extend the stop-work order period, if necessary.