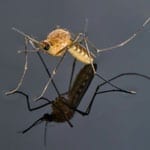 Dallas County officials have declared a state of emergency after the West Nile Virus (WNV) infected at least 190 people, killing 10 in their county, as the nation's worst outbreak hits Texas.
Dallas County Health and Human Services yesterday confirmed the county's tenth WNV related death in a patient that had been diagnosed with WNV neuroinvasive disease.
The statewide death toll stands at 16, with 381 WNV infections reported in more than two dozen Texas counties, according to the Texas Department of State Health Services (DSHS). These numbers represent a significant surge over last year, with statewide infection totals reaching only 27. In Houston alone, nearly 95% of tested mosquitoes are carrying the virus.
This surge in the Dallas area has prompted the state to approve the use of aerial spraying to battle WNV. "The disease poses an immediate public health threat to Dallas County. We need to use all possible tools, including aerial spraying, to fight this outbreak," said Dr. David Lakey, DSHS commissioner. "We will support the decisions made by local officials as we work together to confront this situation. We are on standby to respond to their requests for aerial spraying or other assistance."
While no other state in the country compares to Texas in terms of such high case counts, several other states are reporting elevated numbers, including Mississippi, Louisiana and California.
West Nile virus infections may cause fever, with symptoms such as headache, fatigue, body aches, a skin rash on the trunk of the body and swollen lymph glands. The illness can last a few days to several weeks, according to the CDC.
More serious complications include development of West Nile encephalitis, meningitis or poliomyelitis, with some of the same symptoms but also neck stiffness, disorientation, tremors, convulsions and muscle weakness that can lead to neurological damage, coma, paralysis and death. The elderly and those with weakened immune systems are most at risk of becoming seriously ill once infected.