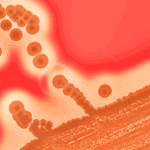 Scientists have started enrollment in a National Institute of Allergy and Infectious Diseases (NIAID) funded clinical trial for a promising topical antibiotic to fight Staphylococcus aureus infections.
Known as XF-73, the treatment is being pursued in response to the growing number of S. aureus strains that have become resistant to commonly used antibiotics. XF-73 has a novel structure and mechanism of action, kills S. aureus bacteria rapidly and does not appear to generate resistance through genetic mutation.
Developed by Destiny Pharma, Ltd., a pharmaceutical company based in Brighton, United Kingdom, XF-73 has been tested in three early-stage trials in Europe and showed promising safety, tolerability and efficacy results. In the new NIAID-funded trial, scientists will assess the safety and tolerability of a modified, thinner gel version of the formula tested in Europe.
S. aureus is the most common hospital-acquired infection in the United States. According to a recent analysis, nearly 300,000 hospitalized patients suffer an S. aureus infection every year in the United States, costing an estimated $9.5 billion in medical expenses.
The trial is taking place at the NIAID Phase I Clinical Trials Unit at Case Western Reserve University in Cleveland. Further details are available at ClinicalTrials.gov: Study of the Safety and Local Tolerability of Intranasel Gel Formulations of XF-73.