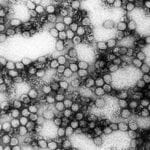 The World Health Organization (WHO) yesterday announced the acute viral hemorrhagic disease yellow fever has killed at least 164 people over the last three months in Sudan's western region of Darfur. 
The latest outbreak of the mosquito-borne virus has been concentrated in central Darfur. "Between 2 September and 29 November, the total number of suspected yellow fever cases has reached 677, including 164 deaths," the WHO statement said. Nearly half the yellow fever cases were in people between the ages of 15 and 30, it said, and about a quarter were children aged five to 15.
Healthcare is provided almost entirely by aid agencies in parts of Darfur, where armed conflict has been raging for a decade resulting in thousands of casualties and ongoing security challenges for vaccination campaigns. 
A large-scale vaccination campaign is underway to counter the surge in yellow fever that began in September after a heavy rainy season created additional breeding sites for disease-carrying mosquitoes. According to the WHO, the campaign is over halfway towards the goal of reaching 3.6 million people in affected areas of Darfur.
In addition to the epidemiology and surveillance assistance from the WHO and other organizations, the US Naval Medical Research Unit No. 3 (NAMRU-3) has deployed a team to Sudan to support laboratory analysis of collected samples as well as conduct training sessions at the National Public Health Laboratory, according to Examiner.com. 
NAMRU-3 is based in Cairo, Egypt and conducts research and surveillance to support military personnel deployed to Africa, the Middle East, and Southwest Asia. The mission also includes regional public health capacity-building, evaluation of vaccines, therapeutic agents, diagnostic assays, and vector control measures. 
The organization operates the largest DoD overseas laboratory, with a biosafety level 3 biocontainment space and field and hospital study sites located throughout Egypt. NAMRU-3 also serves as the regional influenza reference laboratory for the Eastern Mediterranean Regional Office (EMRO) of the World Health Organization (WHO) with close ties to the influenza laboratory at the U.S. Centers for Disease Control and Prevention (CDC).