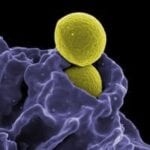 National Institutes of Health (NIH) scientists have identified a promising lead for developing a new type of drug to treat infection caused by Staphylococcus aureus, a bacterium that frequently resists traditional antibiotics. 
Interfering with crucial virulence determinants is considered a promising new approach to control bacterial infection. Prior research targeting therapeutic intervention of Phenol-soluble modulins (PSMs), peptide toxins with multiple key roles in pathogenesis and impact of virulent S. aureus, has been hampered by their multitude and diversity. 
Scientists at the NIH's National Institute of Allergy and Infectious Diseases (NIAID) have now discovered that an ATP-binding cassette transporter with previously unknown function is responsible for the export of PSMs, thus representing a single target for complete obstruction of PSM production. This transport system, which the team calls Pmt, is common to all S. aureus PSMs and critical for bacterial proliferation and disease development. 
The team's experiments suggest that a drug interfering with Pmt's function could not only prevent production of the PSM toxins, but also directly lead to bacterial death. Although their study focused on S. aureus, the scientists suspect that Pmt performs the same role in other staphylococci, such as S. epidermidis, the leading cause of hospital-associated infections involving indwelling medical devices such as catheters, pacemakers and prosthetics. 
The team plans to continue their studies to improve the understanding of how PSMs function and to learn how to interfere with the Pmt transport system to block disease. Study results will appear this week in Nature Medicine: Essential Staphylococcus aureus toxin export system.
Image courtesy of NIAID