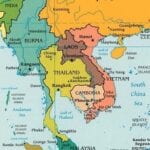 The Defense Threat Reduction Agency (DTRA) this week announced a sole source contract to Diagnostic Microbiology Development Program (DMDP), a nonprofit organization, for capability improvements to Cambodian microbiologic laboratories. 
The contract is on behalf of the Cooperative Biological Engagement Program (CBEP) as part of the Cooperative Threat Reduction Program (CTR) and is the very first CBEP award in Cambodia. Such contracts are considered valuable low-cost opportunities to engage laboratories of interest and promote best practices for biosecurity and biosafety internationally. 
The contract will be for provision of hair sheep as a source of blood for sustainable and quality-controlled blood agar to detect emerging microbiologic pathogens and select agents. The requirement includes associated training and upgrades required to facilitate maintaining the blood agar source and leveraging this source to increase pathogen identification, and other capabilities, of the subject laboratories.  
"The sustainable, standardized, and quality controlled blood supply resulting from this effort will significantly enhance the subject laboratories' ability to identify pathogens and, consequently, to detect, diagnose, and report endemic, man-made or Especially Dangerous Pathogens (EDPs), bio-terror attacks, and potential pandemics," states the announcement.
DMDP describes their mission as building capacity for reliable infectious disease diagnosis by strengthening the infrastructure and technical capabilities of technicians and clinical microbiologists in resource-poor countries. The organization has experience working with U.S. agencies including the Centers for Disease Control, NAMRU-2, and the Armed Forces Research Institute of Medical Sciences (AFRIMS). Read more about their work in Cambodia here. 
The period of performance contemplated for this effort is 12 months. DTRA anticipates the total price for this effort to be $720,000.