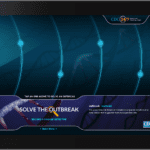 Scientists and gamers alike can now play disease detective, through "Solve the Outbreak," a new iPad app from the Centers for Disease Control and Prevention. The app lets users assume the role of a disease outbreak investigator in the agency's Epidemic Intelligence Service (EIS) by navigating three fictional outbreaks based on real-life events. Users get clues, review data, and make decisions to determine the cause of the outbreak. 
"The goal is to use new technology to provide an engaging, interactive way for users to learn how CDC solves outbreaks, thereby increasing general knowledge about real-life public health issues," said CDC Director Dr. Tom Frieden. "This application allows us to illustrate the challenges of solving outbreaks and how our disease detectives work on the front lines to save lives and protect people 24/7." 
In the game, participants also become familiar with health tips, definitions and information about epidemiology, which is a science used to investigate outbreaks and to monitor patterns, causes and effects of diseases on the public. Users advance in rank as they earn points and can post their results on Facebook and Twitter to challenge other participants. 
"This is a great learning tool for science teachers, teens, young adults, public health enthusiasts and mystery lovers," said Carol Crawford, branch chief, CDC's Electronic Media Branch.  "The three introductory scenarios are based on actual events EIS officers have solved.  We also plan to add new outbreak cases."  
The Solve the Outbreak is free and available for download here in the iTunes store. 
Source: CDC Press Release